2016–2018 international student leadership and ambassador program alumni
Our 2016–2018 group reflect the diversity of students who study in Sydney.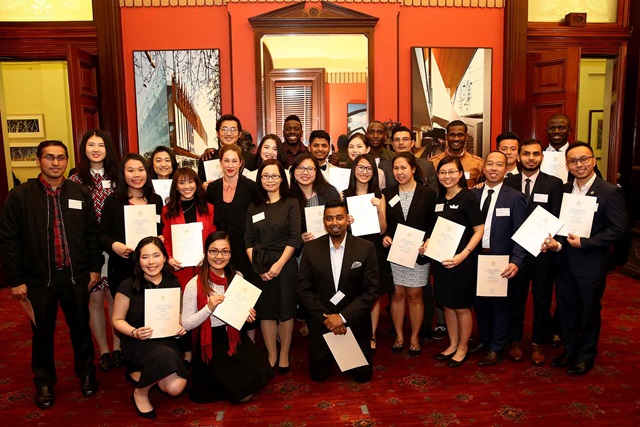 The ambassadors come from 13 educational institutions including universities and private colleges, speak 22 languages and represent 12 countries and regions.
The students participated in the program from December 2016 to June 2018.
Bangladesh
University of New South Wales
Bachelor of Science

I have been in Sydney for 3 years now and love the city. I think it's a beautiful destination for overseas students to come here and pursue their dreams. Being an international student in Sydney I know the current issues faced by students. The ISLA program provides a platform to address these issues. The program aims to promote social cohesion and understanding between local and international student communities. It provides a platform for overseas students to better integrate into Sydney and have an amazing student experience. I am glad to be an ambassador for international students and look forward to engaging positively with the community.

Macquarie University
PhD in Law

The ISLA program is a great opportunity to work with the City and to gain valuable experience in a multicultural environment. Sydney, with its iconic Harbour Bridge and Opera House is a dream place to live for anyone on earth. Aside from its natural and structural beauties, I have been also amazed with the city's world-class educational institutions equipped with reputable faculty members, resources and support for students to maintain a healthy academic life. Living in Sydney is a lifetime experience for me as I've got the whole world here with a vibrant presentation of different cultures. There are many things to learn for anyone from the City's support of the different communities to maintain a multicultural environment in the city.
Cambodia
University of Technology Sydney
Bachelor of Business

I want to enhance my ability towards leadership and learn more about local culture. I want to connect with people and live my life to the fullest. I am not here just to study but with the ISLA program I will also have the opportunity to help out in the community and other international students. I have always dreamed of traveling the world, experiencing different cultures and learning new things. University is not just a place to study courses but also a place to learn about society. Sydney is the perfect place for this, a city full of multicultural diversity. By studying here, I actually get to experience what it is actually like to live here as a student, an employee, and a temporary resident.

Australian Catholic University
Master of Commerce and MBA (Marketing)

I believe that by participating in the ISLA program, I can further hone my skills for future employment. I chose Sydney as my destination since I have heard many good things about Sydney before, and it is also one of the most liveable cities in the world. Moreover, qualifications from an Australian university can help improve my employment chances in my country by a large margin. So far, I am enjoying the natural environment, public transport and the living and learning environment so much. I am having a very good time here, and I love how much people respect one another, especially while on the road.
China
University of Sydney
Bachelor of Commerce

With an increasing number of Chinese students studying in Sydney, as a current international student, I would like to help more Chinese students to become familiar with and get involved in a new culture and also make friends from different backgrounds.

As an ambassador I will be able to understand the concerns students and their parents may have about studying and living in Sydney.

I chose Sydney because it has a pleasant climate. And more importantly because Sydney is full of possibilities and opportunities, where people can fulfil dreams and personal ambitions.

World class education, friendly community and cultural diversity are attractive to me. While studying abroad is a challenge it also gives me opportunities.

Thanks to my lecturers and tutors who provide lots of help for me.

They are professional , answer questions and generate innovative ideas and ways of thinking, which has enhanced me and reshaped my knowledge from university.

Also, local friends are willing to help me overcome cultural and language barriers

University of Sydney
Master of Professional Accounting

I first heard about the ISLA program at an international student employability forum and I was impressed by the supportive leadership development and dynamic cultural backgrounds the program provides. Sydney's climate, stunning landmarks, public safety, diverse and supportive cultural environments are the reasons I choose Sydney as my study destination.

By living in Sydney, I am truly enjoying creative freedom and a high quality of life. Just because of this, our life course should no longer be determined by what is safe and easy. This is our time! Let nothing limit our ambitions. My mission is to help create a more equal world where every international student sits at the same table with local students and all voices are heard.

University of Technology Sydney
Bachelor of Integrated Product Design

The main purpose of joining the ISLA program is that I aim to improve my leadership and social skills. It is a good opportunity for me to practise and improve all kinds of skills by engaging in teamwork. Sydney is regarded as the icon of multiculturalism in Australia. I have more chance here to study professional skills, make friends from all over the world, progress my social skills and broaden my horizons in this multicultural nation. When I first came here, I lived in a homestay. I so enjoyed the time spent with the family, they gave me lots of help not only with my study but also on social activities. Although I have moved out, I still keep in touch with them.

University of Sydney
Bachelor of Laws and Bachelor of Commerce

I would like to enhance my leadership, communication and project management skills through the free training and volunteering opportunities offered by the ISLA program. These are important skills that are transferable to all students' future careers. Sydney is a multicultural society with people from different backgrounds. I love the food here, the beach culture as well as the lovely weather.

Sydney is amazing. I have never felt so moved by the inclusiveness and friendliness in Sydney. It is the perfect place with a vibrant scene of musical, visual, literary and other artistic activity. Embrace the culture of Sydney, embrace the opportunities and challenges in Sydney, the promising future is ahead of you.

University of Sydney
Master of Professional Accounting

I hope I can be a member of the ISLA program that helps make a difference to international students' life in Sydney. As an international student, I deeply know the difficulty of adapting to a new environment. My experience of adapting to life in Sydney makes me feel empathy for those international students who are struggling with their study or life. I think that it will be a rewarding and meaningful experience if I can assist the City of Sydney in designingand organising projects and events for international students. From my perspective, Sydney is an amazing city to live in. Before I came to Sydney, I had always dreamt of studying in this fabulous city and I look forward to studying in this beautiful city as well as getting to know the friendly people living here. Living and studying in Sydney has changed me a lot. During the period of adapting to the local environment, I became more confident and more positive about life. Also, I am inspired by my beloved university and want to make every effort to achieve excellence.

University of Sydney
Bachelor of Commerce

The ISLA program provides international students with an opportunity to better engage in Sydney.. As an international student, I've received a lot of help and support since I arrived in Sydney. The program provides me with a great opportunity to give back to the community by providing services and help to overseas students. My personal experiences could help me better understand their needs. Sydney is a global city which embraces people from different cultural backgrounds. Its vibrant environment attracts young people to join this society. World-class universities in Sydney provide students with access to high quality education. Sydney is a great place where you can enjoy a high quality education and embrace an enjoyable social life. The multicultural environment provides you with opportunities to meet people from different countries. It's an enjoyable life in Sydney.

University of New South Wales
Bachelor of Accounting and Finance

I have been aspiring to share my own story and experiences with other international students to help them become involved in this new society as fast as possible, which will also be a way of giving back to those people who helped me. I chose Sydney because UNSW is my preferred university. Besides, Sydney has comfortable weather, beautiful natural scenery and great security. Lastly, the ethnic diversity of Sydney makes this wonderful city an inclusive one. Making my first local friend in Sydney was a challenge. However, I want to emphasise that making friends here does depend on your own initiative and sincerity. When language barriers are resolved, you may find that the gaps between you and local students are not as far apart as you imagined.
Hong Kong
University of Sydney
Bachelor of Arts and Bachelor of Laws

The ISLA program is an award winning initiative that provides an opportunity for students of an international background such as myself to be a recipient of professional training in leadership and communication skills that would deepen my social skillset as an aspiring individual in society. Sydney possesses a vibrant atmosphere that I just cannot get enough of. It is a spectacularly hybrid city of contemporary and historic themes that contains food of wide varieties and multiple mesmerising sights that are spread around the city. Living in Sydney has brought me an elevated sense of both dependence and independence. I have made many friends from multiple cultural backgrounds that I can rely on, and at the same time come to understand that there are many responsibilities that I need to carry when studying abroad.
India
University of Newcastle, MBA and Master of Applied Finance

The ISLA program will give me a great platform to meet different international students. It will help me to learn about new cultures. I like to interact with people. Sydney is one of the best places to work in the world. Sydney will give me good opportunities to develop my confidence and introduce me to the international world. Sydney is a very good place to live and to work. People in Sydney are very nice and kind.

Macquarie Graduate School of Management, Macquarie University
MBA

People have come far and wide to make Sydney their home. Moving to a different country can be quite stressful and culturally different, immersing yourself in different volunteer activities can help you adjust quickly and make your student experience enriching. As an international student, be open and accepting to this new adventure with a clean slate without relying on perceptions and expectations of what should, or shouldn't be. Be part of programs such as the ISLA program to experience and learn from different projects, which is not only for you but also gives back to the community. Sydney is a great city that offers you diverse landscapes and nature, which are waiting to be explored. I moved to Sydney from New Delhi in September 2016 and I have loved every minute of it.
Malaysia
Macquarie University
Bachelor of Applied Finance and Bachelor of Economics

I want to help international students to ease their transition in Sydney. I can help them by providing support and be their first point of contact if they have any enquiries. I chose Sydney because I always wanted to study abroad in a western country and I am attracted to the laid-back lifestyle in Sydney in contrast with the stressful lifestyle in Asian countries. Sydney's climate and stunning landmarks, along with the university's reputation and world rankings are why I'm here. My experience of living and studying in Sydney so far was like a roller coaster because when I first arrived in Sydney I was alone but now I am glad that I stepped out of my comfort zone and tired new things which in return, lets me meet amazing people.
Mexico
University of Sydney
PhD in Agriculture

My previous experience as a training officer and project coordinator working with 2 international not-for-profit organisations in the area of agriculture and environment allowed me to be exposed in a multicultural environment. I applied my communicational and leadership skills by developing training materials, organising workshops and conferences, and helping develop proposals and projects for funding opportunities.

Due to a deep personal interest and a strong desire to learn more about sustainable agriculture, in 2015 I decided to continue with further studies by doing a Masters in Sustainability at the University of Sydney. In October of 2016, after completing the course I decided to start a PhD in Agriculture focusing on extension and innovation. For the past 2 years Sydney has been my home, I have had the chance to interact with domestic and international students at the university where I have made new friends and with whom I have travelled a bit around Australia to discover the natural beauty of this country. I feel very lucky being here. This journey has been full of opportunities and challenges and I can say that when I have encountered challenging situations I have always found good people to whom I call angels and they have supported me.
Nigeria
KENT Institute Australia
Bachelor of Business (Accounting)

The ISLA program will enable me to contribute to community development through giving back to society. I chose Sydney because of the information I got about the city such as the commercial business hub of Australia, tourist attractions for example the Sydney Harbour Bridge, architectural monuments like the Opera House, a multicultural city without racial discrimination and very safe for living among beautiful sceneries. I would like to share my experience of living and studying in Sydney through the ISLA program, as well as one-on-one interactions with friends and family. I would also like to share my experiences through social media platforms like Facebook and Instagram.
Pakistan
Macquarie University
PhD in Electronics Engineering

Sydney has been a home to me for a year now and it has been an amazing journey so far. Besides my excellent educational records and research contributions, I always take a lead in extracurricular activities and am always ready to volunteer for various causes in the local community. I consider myself an ambitious and effective individual with an intense desire to further improve my professional knowledge and leadership skills. The ISLA program is an excellent opportunity to help me further enhance my leadership and interpersonal skills. It will also help me build strong connections with likeminded students/leaders towards the aim of improving international students' experience. By this opportunity, I am looking forward to cultivating my potential towards the benefits of international students and leave a positive mark on both local and international students' communities by being an inspirational role model. In short, with all the expertise and experience in hand through ISLA, I will be in a better position to reflect the positive image of international students and work towards their wellbeing.
Philippines
University of Technology Sydney
Juris Doctor

I am in the pursuit of personal growth and Sydney opens doors to countless opportunities. Every day in this city is a new adventure – a chance to learn and discover a plethora of interesting things. Here, one can become immersed in different cultures making up the tapestry of the Australian community. The ISLA program is the perfect platform not only for me to learn various sets of skills, but also to understand diverse perspectives and contribute my ideas. Coming to Sydney may be one of the best decisions I have made. It has helped me become socially and culturally mature. I seek to inspire others to dream big, step up, take the challenge and dive into the process of achieving their goals.

Torrens University
Bachelor of Commerce (Accounting)

I believe the ISLA program will allow me to further develop my leadership, integrated learning skills and enhance how I engage with the community. When I got here in Sydney, there is that longing to be involved in the wider community, working hand in hand with people from different cultural backgrounds. In the end, an ordinary international student like me can find her voice in a country where I am considered a foreigner, and therefore become extraordinary. Moreover, this program will definitely be an eye-opening experience for me in terms of stepping out of my comfort zone and socialise more. When I am able to conquer this, I know that I would be able to own up to my ambassador title with pride.

Charles Sturt University
Master of Commerce (Marketing & International Management)

I specifically like the fact that Sydney is multicultural and its lifestyle is something I think that I could survive in, versus other countries with the same calibre of quality education. Homesickness is the most difficult challenge I come across from time to time but there is always a way to ease that pain of missing home, like meeting new friends and just enjoying what the City has to offer. Being an international student has its challenges and I trust that the ISLA program will help me acquire skills to be better prepared for the future. I also look forward to getting more training in leadership and communications, as an International Student Ambassador.

Macquarie University
Master in Information Technology

Not only will I be able to help my fellow international students but I will be able to work with some of them through workshops during the ISLA program and even learn from them through actual participation in projects. I will be able to help and learn at the same time. I chose to study in Sydney because of its world class educational standard with a wide range of courses, diverse and friendly environment, good weather, best beaches and great scenery. It is labelled as one of the most liveable cities in the world and has so far exceeded my expectations. Being in a new place for the first time is a big challenge, it can really be intimidating at first. But by facing each challenge one a time, everyone can overcome it.
Saudi Arabia
University of Sydney
Master of Philosophy in Medicine

I wanted to participate in the ISLA program because I want to help share my knowledge and the experiences I have gained as an international student in Sydney over the years. I would like to help make Sydney a great environment for newly arrived students. I like the healthy and active lifestyle Sydney has to offer and the good weather. Sydney is a multicultural city which has helped me to mingle and make friends with people from around the world. Sydney has a great natural environment and many sightseeing attractions. The education level in Australia is one of the best in the world. During my stay I have interacted with many different individuals which has developed my people skills. This has enabled me to help others to be active members of society, maximise their student experience in Sydney, create a great environment, and develop their skills to be part of the workforce.
United States of America
Western Sydney University
Bachelor of Business (Human Resource Management)

As an American international student, I would like to maximise my involvement and experience in Australian society. I am committed to advancing my knowledge and leadership skills, to effectively contribute to the community and make a difference. I chose Sydney as a place to study because it is full of diversity and has promising career opportunities. Living and studying in Sydney has exposed me to some amazingly talented individuals who have enriched my experience in Australia.
Vietnam
University of Wollongong
Bachelor of Commerce

Fortunately, through opportunities such as the ISLA program my very deep commitment has been strengthened. I would love to participate in city life and help build Sydney's reputation as a preferred destination to study and receive training to become an effective leader and engage in various programs to improve my skills and communication. I chose this beautiful city to study because I developed an interest in this city a long time ago. Sydney has a reputation for its educational system and friendly citizens. I always wished to experience my uni life in such a wonderful place. I really love this city and I have received a lot of help from the local people and teachers. I enjoy my life here a lot and I expect that my upcoming 3 years will be an irreplaceable experience.

University of Wollongong
Bachelor of Communications and Media Studies (Journalism)

This opportunity gives me the role of an ambassador to represent the youth of the city of Sydney, a much larger and more dynamic place. The point that drew my attention was that I will be able to participate in media interviews, speak at international student forums, seminars and events. Although I'm not studying and living in Sydney, I've experienced the studying environment when visiting some universities such as the University of Sydney, UTS, and Macquarie. Most of them are characterised by significant investment and modern infrastructure. That was why most of my friends chose Sydney to study. Sydney is a real multicultural and dynamic city. Besides the local residents, the international community makes up the diversity in lifestyles and the city's atmosphere. It is a perfect environment for studying and living for international students.

University of Victoria
Master of Applied Information Technology

Many times, I asked myself 'what does happiness mean exactly? I also questioned other people in terms of their opinion of happiness. As a result, I realised happiness comes when you feel satisfied and fulfilled. That is a feeling of contentment when you help others. Perfect happiness derives from a simple method: making yourself or someone smile. That was a reason I applied for the ISLA program to improve myself and help other people, especially international students who need a lot of valuable advice to settle down in a new environment. Choosing Sydney as the destination for my education is a great decision that made. Sydney not only provides me an amazing education with the highest quality of teaching and facilities, but also a golden opportunity for me to be a part of the ISLA program. Moreover, it gives me the feeling of living around the world since every day I can communicate and meet new people from different cultures and countries which helps me to improve my English skills and confidence.

University of Wollongong
Bachelor of International Studies

I joined the ISLA program because it is a chance to learn and experience a lot more, and especially inspire other international students like me. It also helps me improve many important skills which are required for my future career. I shall get the opportunity to meet many people from different organisations and companies around Sydney and Australia which I believe to be very helpful for my future career. When thinking about studying abroad firstly, I chose America. But after discussing it with my family and researching about Australia, I realised that Australia was a good place for living and studying. It is a multicultural country where I can meet different people from different backgrounds and experience different cultures. I don't live in Sydney but my experience in Wollongong so far has been amazing. Transport is very convenient, people are really friendly and the education system is perfect. While living in Wollongong, I can work and study with both international and local people which broadens my knowledge of other cultures.