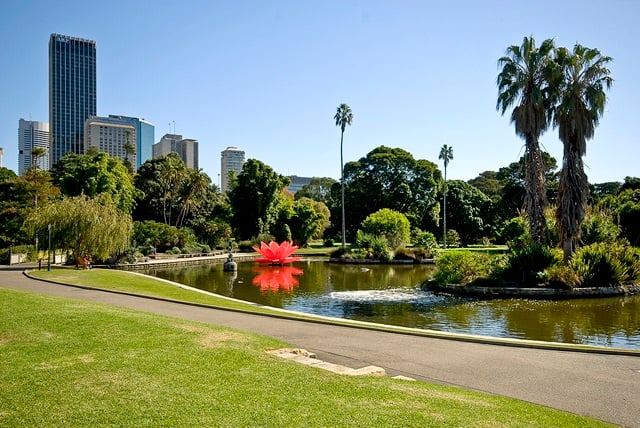 Extensive harbour-side regional parkland near the city centre hosting the Royal Botanic Gardens, a state heritage site full of flowers, plants and trees from all over the world.
Mrs Macquaries Road
Sydney 2000
Royal Botanic Garden
Opening times are seasonal. Please check with the official site for specific times.
Monday to Sunday

7am to 8pm
The Domain
Monday to Sunday

Open 24 hours
The Royal Botanic Garden and Domain Trust
The City of Sydney is not responsible for this park.
Close to transport

included

Public transport links are nearby.
Car parking is available at The Domain.

Cafe

included

Cafes and a restaurant can be found within the grounds.

Public toilets

included

Exercise equipment

included

Outdoor fitness equipment and sports fields for hire

Attractions

included

Indoor and outdoor event spaces for hire and public art
Around 3 million people pass through the gates of the Royal Botanic Garden every year, and just over half of these are international visitors.
The garden proudly sits in the heart of central Sydney's cultural district, with art galleries, museums and performing arts spaces a short stroll away. The garden is among the few destinations that can count the Sydney Opera House as a neighbour. Located to the east of the city centre, the public space extends from St Marys Road to Sydney Harbour. It is easy to immerse yourself in more than 65 hectares of its landscaped beauty.
The Royal Botanic Garden and The Domain are on the state heritage register. Several immaculately designed and themed gardens make up the area and these are interconnected by a network of paths. Flowers, plants and trees from all over the world are showcased, with an emphasis on Australian and south Pacific greenery. You have all day to leisurely make your way around the garden, but if you would like a guide by a friend of the garden, free guided tours take place daily at 10.30am. Guided tours take around 90 minutes.
Adjacent to the garden is The Domain which hosts some of Australia's most popular events, including Carols in the Domain.