Feedback on future of Botany Road and surrounds
The proposal is planning for Botany Road and Regent, Wyndham and Gibbons streets in Redfern, Waterloo and Alexandria.
Project Status:

Closed

Public consultation period

to
Tim Wise
Manager State Planning Projects
David Beaumont
Senior Community Engagement Coordinator, Indigenous Leadership and Engagement
Lauren Flaherty
Senior Community Engagement Coordinator
What we're doing
With the Waterloo metro station set to open in 2024, the planned redevelopment of Waterloo estate and the growing worker population in Eveleigh south, now is the time to revisit how these streets can be safer, greener and healthier, while maintaining their vital transport functions.
Our local strategic planning statement, City Plan 2036, identifies the Botany Road corridor as an opportunity to provide much needed employment and business space including office, retail, community and cultural uses. We're investigating planning changes to strengthen the employment role of the area and support night and day economic, social and cultural activity and safety. This may mean changes to building height, built form and land use controls to support employment growth.
The area holds enormous place, civil rights and social significance for Aboriginal and Torres Strait Islander peoples and our wider communities.
Our work includes Aboriginal and Torres Strait Islander engagement and consultation and studies on urban design, transport, noise, air quality and heritage. We've engaged Cox Inall Ridgeway to work with Aboriginal and Torres Strait Islander community organisations and residents as part of this project.
The work will guide planning control recommendations to achieve the priorities and actions in City Plan 2036. We want to know what you think Botany Road and Regent, Wyndham and Gibbons streets should look and feel like in the future.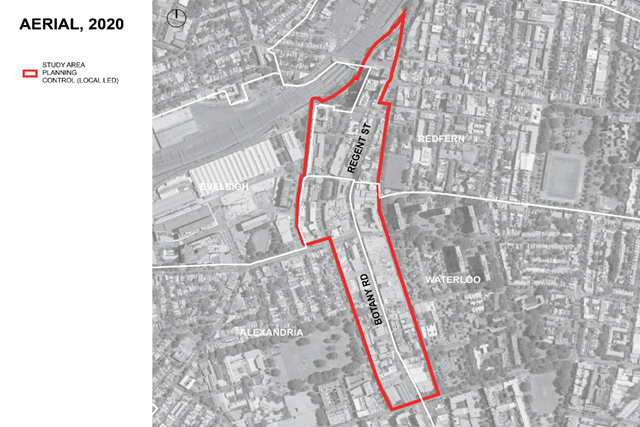 How you can give feedback
Feedback for this consultation has now closed
Give your feedback by completing an online form.
Email your comments to [email protected]
or send by post to:
Botany Road Corridor Strategic Review
Town Hall House
Level 13, 456 Kent Street
Sydney, 2000.
Consultation closes at 6pm on Friday 4 September 2020.
We will consider all feedback and prepare any draft planning controls for public feedback in 2021.
Feedback may be published in publicly available reports at the end of the consultation period. Your name or organisation's name may appear in these reports with your feedback attributed. If you would like your feedback to be kept confidential, please let us know when making your submission.
Other ways you can give feedback