Proposed improvements for traffic and transport in Alexandria and Erskineville
Project Status:

Under review

Lord Mayor of Sydney, Clover Moore AO will host a community forum on the Erskineville and Alexandria traffic and transport study on Thursday 21 September from 6pm to 7pm at Alexandria Town Hall, 73 Garden Street, Alexandria.

Unfortunately the lift will not be available due to essential maintenance works.

Public consultation period

to
Craig Ryan
Senior Project Manager, City Engagement
Why we're doing this
We welcome your feedback on proposed traffic changes for Alexandria and Erskineville in response to community concerns about impacts on local streets.
We shared the Alexandria and Erskineville traffic and transport study in February and asked for early community input to inform the plan for traffic management in the area.
What we're doing
The proposed changes aim to improve access, safety and amenity for residents. In particular, for walking and cycling, to limit through traffic on local streets and minimise impacts from traffic management measures.
The key proposals and options include:
closing Park Street at Henderson Road or introducing a new right turn ban from Park Street into Henderson Road
a traffic calming scheme for Maddox Street west of Euston Road
closing Maddox Street or banning the left turn from Euston Road into Maddox Street
closing Harley Street west of McEvoy Street or east of Mitchell Road
installing a signalised crossing at Mitchell Road and Ashmore Street
a traffic calming scheme on Mitchell Road
minor changes at some intersections to calm traffic and improve safety.
Issues raised but not included in this proposal
Increase in traffic on Buckland Lane arising from closure of Anderson Street and right-hand turn bans at Buckland Street
The no right turn on Mitchell Road at Buckland Street was originally installed at request of residents to reduce volumes on Buckland Street. Removing the no right turn will encourage more traffic on Buckland St.
The pedestrian crossing of Mitchell Road at Harley Street should be raised
A raised pedestrian crossing was proposed as part of the cycleway works but due to drainage considerations during detailed design, it was not possible to raise the crossing. Signals at the intersection will provide a safer designated crossing for people walking instead of a raised zebra crossing.
Mitchell Road between Sydney Park Road and Coulson Street is too narrow to accommodate the cycleway currently under construction
The cycleway uses space previously used for parking and does not reduce traffic lanes.
Temporary speed humps on Henderson Road and Railway Parade are loud and need to be replaced with permanent, quieter ones
The material and locations can be considered but permanent speed humps will not create less noise.
Artist impressions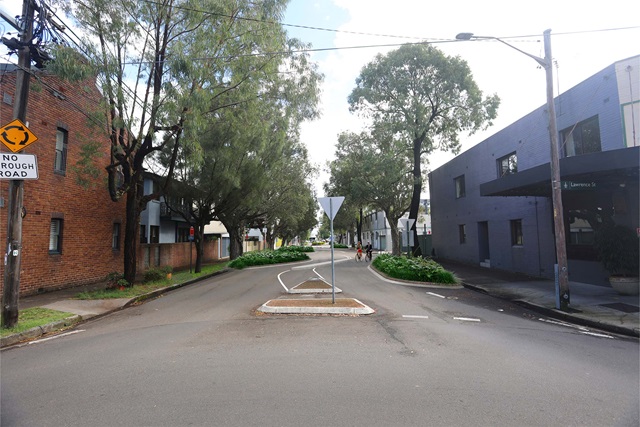 How you can give feedback
Consultation closes at 5pm on Friday 30 June 2023.
Use the interactive map to have your say

Email or post your feedback

You can give your feedback by email to [email protected] or post to:

Chief Executive Officer
City of Sydney
GPO Box 1591
Sydney NSW 2001
Feedback may be published in publicly available reports at the end of the consultation period. Your name or organisation's name may appear in these reports with your feedback attributed. If you would like your feedback to be kept confidential, please let us know when making your contribution.
Other ways you can give feedback