Project Status:

Closed

Public consultation period

to
Sarah Scott
Senior Design Manager
Adam Lander
Senior Communications & Engagement Advisor
Why we're doing this
This upgrade will help keep the area safe and accessible for the thousands of visitors who enjoy the park and is part of the Hyde Park masterplan improvement works.
What we're doing
This upgrade will:
replace old lighting with new fixtures and warm light LEDs to reduce energy consumption. The light poles will be designed to resemble the existing light pole silhouette to retain the heritage park character and will be constructed of sustainable aluminium.
simplify the lighting in the lawn areas with a reduced number of mast lights providing a wash of light for safety and night-time events.
allow us to better meter, monitor and manage the Hyde Park lighting network.
upgrade the power supply in Hyde Park and add new meters. New power bollards will be located in discreet locations to allow events to access power safely.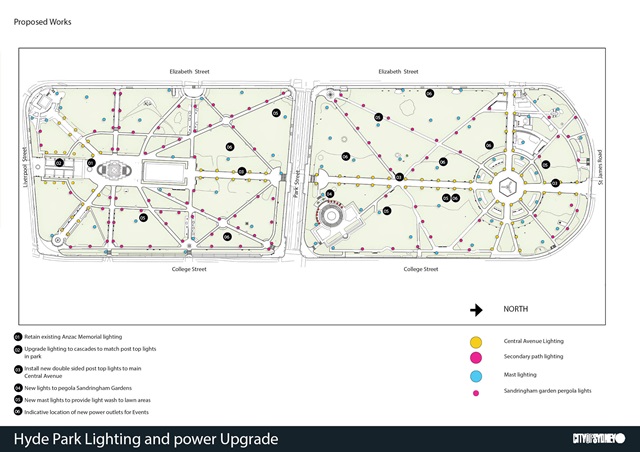 How you can give feedback
Consultation closes at 5pm on Wednesday 8 December 2021.
Complete our feedback form

Email your feedback

You can also give feedback by email to [email protected].

Talk to us
Sarah Scott
Senior Design Manager
Adam Lander
Senior Communications & Engagement Advisor
Feedback may be published in publicly available reports at the end of the consultation period. Your name or organisation's name may appear in these reports with your feedback attributed. If you would like your feedback to be kept confidential, please let us know when making your contribution.
Other ways you can give feedback