Your feedback on the proposed upgrade of Crown Street, Surry Hills
Project Status:

Closed

In August and September 2022 we asked for your feedback on our initial plan. We've included the feedback from residents and businesses in our revised project design.

Public consultation period

to
Adam Lander
Senior Communications & Engagement Advisor
What we're doing
We plan to upgrade Crown Street in Surry Hills between Oxford and Devonshire streets. The upgrade will improve walking in the area and help increase passing trade for local businesses.
The proposed improvements include:
removing timber electrical poles and placing overhead electrical cables underground
new multifunction smartpoles with LED streetlights
installing new footpath where there is currently pop-up alfresco dining
footpath widening, kerb upgrades and pedestrian ramp upgrades
replacing the existing signal crossing at Crown Street Public School with a raised zebra crossing
new garden beds along the street, new bubblers, bike racks and seating.
To cool and green Crown Street we're planning to increase canopy cover by over 50%. We'll replace 3 existing trees with 40 new trees. Eight current on-street parking spaces will be converted to tree pits and new footpath.
Our contractor, Sydney Civil, will visit Crown Street over the coming weeks. Its representatives will inspect the site and speak with businesses on how to decrease construction impacts if the project is approved.
Next steps
We will report all feedback and design changes to Council, and we will continue to a detailed design. We will keep you updated on the progress of this project.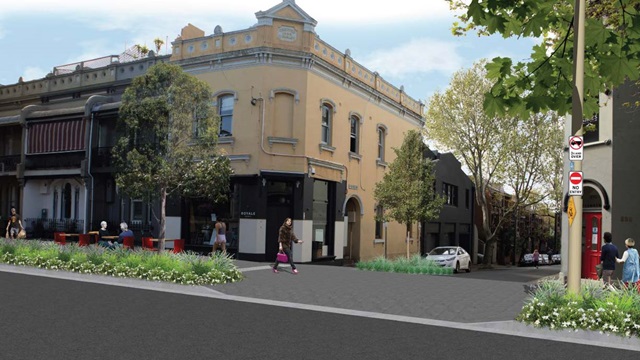 In August and September 2022 we asked for your feedback on our initial plan. We've included the feedback from residents and businesses in our revised project design.
How you can give feedback
Consultation closes at 5pm on Monday 19 September 2022.
We have a range of ways you can provide your feedback:
Complete our feedback form

Email or post your submission

You can also give feedback by email to [email protected] or post to:

Senior Project Officer
Strategic Engagement and Community Relations
City of Sydney
Town Hall House, Level 7
456 Kent Street
Sydney NSW 2000

Talk to us

Pop-up stall at Shannon Reserve, Crown Street on Saturday 27 August from 11am to 1pm.
Feedback may be published in publicly available reports at the end of the consultation period. Your name or organisation's name may appear in these reports with your feedback attributed. If you would like your feedback to be kept confidential, please let us know when providing your feedback.
Other ways you can give feedback