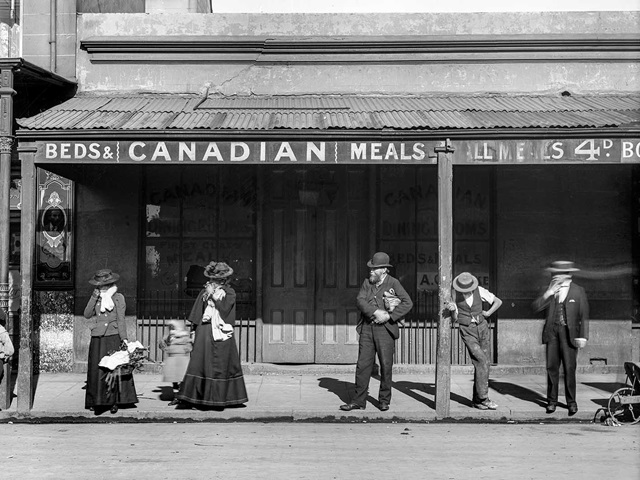 Take a virtual tour through the streets of Sydney in the early 20th century.
Curator: Laila Ellmoos
This exhibition showcases photographs commissioned by Sydney Municipal Council from 1900 to 1920.
The City Building Surveyor's Department used photography to document the city's profound transformation in the first two decades of the 20th century. These photographs inadvertently capture the largely working class neighbourhoods and people being displaced by commercial and government redevelopment.
The City Building Surveyor's Condemnation and Demolition Books is a key photographic collection held in the City Archives comprising almost 5000 photographs and associated glass plate negatives.
The exhibition is on display at Customs House from March 2020 to September 2022.
Tips to help you navigate the virtual tour:
Choose full screen for optimal viewing.
Drag your mouse to look left and right, up and down.
Follow the hotspots on the floor.
Scroll your mouse to zoom in and out.
Click on the small circular tags next to items in the exhibition for more information, including exhibition text, captions and links to high res images, video and more.
To enlarge an image, hover over the small circular tags and click on the image that pops up.
History

Sydney is a vibrant city and it has an ancient heartbeat. Discover the rich, vivid history of Sydney from early Aboriginal life through to the modern global city.