Project Status:

In progress

We invite you to join the Lord Mayor and the project team at a community meeting in the Redfern Community Centre at 6:30pm on Thursday 12 October.

In June and July 2023, we invited feedback on our Redfern neighbourhood vision and plan. Based on this feedback, we have developed a revised plan for our upgrade of the area.

At the meeting we will update the community on our revised plans. Food will be served.

Public consultation period

to
Gareth Jenkins
Senior Community Engagement Coordinator – City Engagement
Calley Clarke
Business Support Officer – City Engagement
What we're doing
We asked for feedback to help shape a community vision and plan for Redfern in November and December 2022.
We heard that in the future the community see the neighbourhood as:
a place that celebrates its Aboriginal culture and history
a place that is green and cool with native trees and plants
a safe place to move around and play
a place where people feel a sense of connection and belonging
a place where the community can come together to socialise and celebrate.
This community vision has helped us shape a plan to improve the local parks and streets. We now invite you to provide feedback on the draft plan.
The plan involves 3 main opportunities:
improvements to Redfern Community Centre Park
improvements to Yellowmundee Park and Hugo Street Reserve
slowing traffic and greening the streets.
Neighbourhood boundary
The map shows the areas we consider part of this work. The blue boundary shows the broader Redfern/Darlington neighbourhood and the orange boundary shows the area around the Redfern Community Centre, which is the focus of this plan.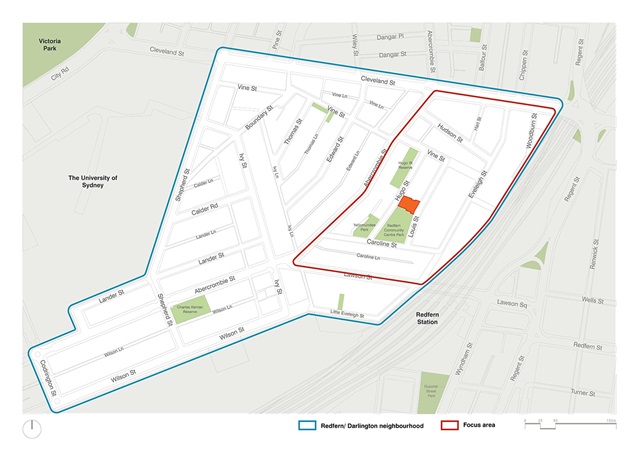 Read the plan and early engagement report
Why we're doing this
This is part of a broader piece of work looking at the public domain in the Redfern and Waterloo area. These suburbs are undergoing significant change with redevelopment of several major sites and new transport infrastructure at Redfern station and the new Waterloo metro station. These changes will affect the way the public domain works with more residents and workers using the streets and public spaces.
We'll work with our communities to develop an overarching public domain plan and neighbourhood visions to inform future projects. This local neighbourhood plan is the first to be developed.
How you can give feedback
Consultation closes at 5pm on Thursday 20 July 2023.
Complete our feedback form

Email or post your feedback

You can give your feedback by email to [email protected] or post to:

Gareth Jenkins, Senior Community Engagement Coordinator
City Engagement
City of Sydney
Town Hall House, Level 7, 456 Kent Street
Sydney NSW 2000

Talk to us
Gareth Jenkins
Senior Community Engagement Coordinator – City Engagement
Calley Clarke
Business Support Officer – City Engagement
Feedback may be published in publicly available reports at the end of the consultation period. Your name or organisation's name may appear in these reports with your feedback attributed. If you would like your feedback to be kept confidential, please let us know when making your contribution.
Other ways you can give feedback