Community transport
Our service connects older adults, young people and children with our centres, events and activities.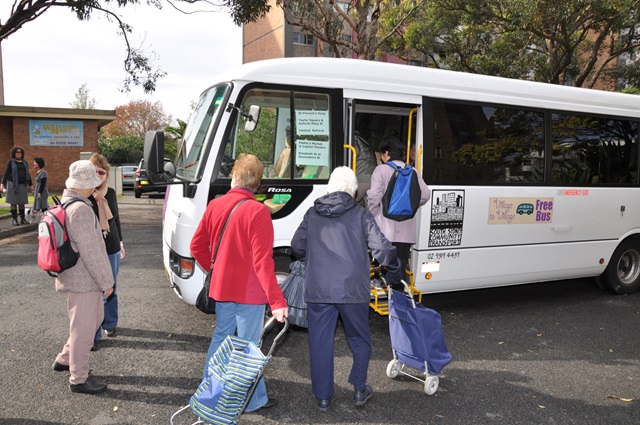 Free Village to Village shuttle service
The latest timetable information can be found at the Village to Village site.
Access Sydney Community Transport
The access bus, shopping bus and individual transport services are operated by Access Sydney Community Transport. Conditions may apply to use either service.
There are 2 main community transport providers operating in the local area – the City of Sydney and Access Sydney, formerly South East Sydney Community Transport.
Both services provide accessible and affordable options for people who have difficulty using public transport.
City of Sydney community transport
Our services support many of our community service programs.
The services help residents and visitors commute to and from our events and facilities.
Access Sydney Community Transport
Access Sydney Community Transport is a not-for-profit organisation providing assisted commuting for older people, people with disability and carers. It is funded by the federal home and community care and Transport for NSW community transport programs.
Available for shopping and travel to social services, it's designed for people with limited access to public or private transport.
Access Sydney Community Transport can also provide information on public transport, subsidised taxi fares, community transport in other suburbs, and other home and community services.
Other services
Shopping bus
This is a weekly, door-to-door service with an assistant on-board to help you get your shopping bags on and off the bus and into your home. The service operates in these key areas:
Millers Point and The Rocks
Pyrmont and Ultimo
Glebe, Camperdown and Chippendale
Alexandria, Erskineville and Newtown
Redfern, Waterloo and Rosebery
Surry Hills and Paddington
Woolloomooloo and Kings Cross.
Individual transport
If you need transport to medical appointments or someone to help you with errands, you may be eligible for the low-cost individual transport service.
Village to Village shuttle
This free shuttle bus service travels between certain areas of the local area each Thursday and Friday. Its stops include shopping centres and essential services such as Royal Prince Alfred Hospital.
You can choose between 4 different routes. Visit the Village to Village site for timetable information.
Woolloomooloo to Redfern
This service links Woolloomooloo, Potts Point, Darlinghurst, Surry Hills and Redfern residents to local services such as shops, Kings Cross railway station, St Vincent's Hospital and Central railway station. It includes Billyard Avenue, Onslow Avenue and the Ithaca Road loop.
Woolloomooloo to Broadway
This bus service travels via the city centre. Destinations include the Ian Thorpe Aquatic Centre, Sydney Fish Markets and Broadway Shopping Centre.
Redfern to Broadway via Glebe
This service links Redfern, Waterloo and Glebe residents to local amenities such as RPA Hospital, Glebe library, Sydney Fish Markets and Broadway shopping centre.
Redfern to Broadway via Alexandria
This service travels to Dank Street, Green Square, Newtown, RPA Hospital and Broadway Shopping Centre.