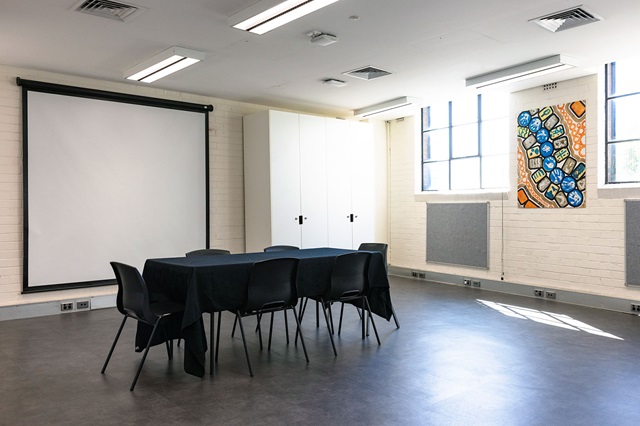 This multipurpose room is ideal for all kinds of craft activities, playgroups, wet and dry programs, cultural programs, events and community gatherings.
Availability
Bookings can be made out of normal hours upon request and will incur additional staffing fees. See cost to hire.
Monday to Friday

9am to 5pm
Make a booking
Kitchen

included

Sink and access to hot and cold water

Venue tour

included
Onsite mobility parking

not included

Mobility parking within 300m

included

Level access entrance

included

Entry door type

included

Automatic – doors open to 1960mm wide.

Floors

included

Lift

included

Accessible toilets

included

3 unisex toilets, each includes shower facilities, with shower controls that are reachable from a seated position and bench.

Ambulant toilets

not included

Changing places facilities

not included

Hearing support system

included
Cost to hire
Standard
Hourly rate
Individual/community groups
Hourly rate
Commercial or government
Out of hours
Out of hours
Bookings that fall outside of normal operating hours will incur a staffing fee. This will vary as to the rate of pay for the booking period required. The costs listed below show the range of fees which will be confirmed at the time of booking.
Additional staff member during normal hours
Weekday out of hours staff after 9pm
Out of hours staff Saturday
Out of hours staff Sunday
Out of hours staff Public Holiday
Price on inquiry
Support for community groups
Eligible community groups can apply for support to hire this space through these programs.
Also for hire at Redfern Community Centre