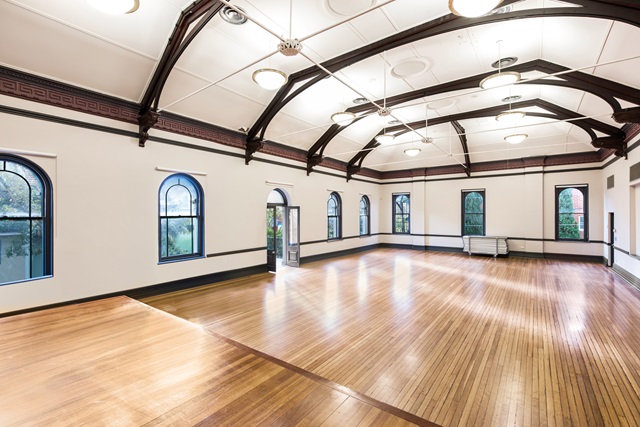 Suitable for functions, community meetings, rehearsals and performances. The large hall features high ceilings, polished floors, a small stage, balcony and a commercial kitchen.
Size
Main hall: 17m × 9.6m, Stage 5.6m × 2.8m × 0.8m high
Covid-19 update – reopening information
We're excited to welcome you back.
See the latest updates about our swimming pools, libraries, community centres, customer and neighbourhood service centres and other venues.
Availability
Monday to Sunday

7am to 12 midnight
Make an enquiry
We require 2 weeks notice.
Close to transport

included

Kitchen

included

Kitchen with warming oven, commercial oven, dishwasher, fridges, Zip hot water, gas stove, stainless bench tops.

Audiovisual equipment

included

PA system: 3.5mm iPod/MP3 cable, 3 microphone inputs and 1 microphone.

Tables and chairs

included

20 trestle tables
10 round tables
180 chairs

Chair trolley

included

Chair and table trolleys available.

Gas stove

included

Available in large hall commercial kitchen.

Commercial oven

included

Available in large hall commercial kitchen.

Instant hot water (Zip system)

included

Air-conditioning

included

Venue tour

included

If you're interested in a venue tour, please contact the community venues team

Lectern

included

Parking

included

Limited 2-hour parking on Pitt Street.
Mobility parking within 300m

included

On-site parking

not included

Level access entrance

included

A ramp located to the right of main entrance. Ramp is 1190mm wide.

Entry door type

included

Heavy wooden double doors, 1550mm wide.

Floors

included

Lift

included

Accessible toilets

included

1, located on ground floor.

Ambulant toilets

not included

Hearing support system

included

Hearing loop available in main hall and small hall.

Ramp access

included

Ramps at front of building.

Changing places facilities

not included
Cost to hire
Standard
Weekdays after 5pm, all day on weekends and public holidays
Day rate
Monday to Friday, 9am to 5pm only
Weekend full day rate
Including public holidays (8am to midnight)
Concession
Community hire rate
50% discount on standard hire rate
Self help groups
50% discount applies to community/not-for-profit
Other
Cleaning fee
Quotation available on request
Security fee
Quotation available on request
Room set-up fee
Quotation available on request
Wedding surcharge
Booking fee + 10%
Additional site inspection
1 included each booking
$83.50
Conditions of hire
Before hiring a City of Sydney community venue we ask that you read and understand the conditions of hire.
Other considerations
Noise – residential area, no amplified music.
Additional cleaning can be arranged.
Some functions may require security.
Not licensed – alcohol to be served via Gold Licence Caterer.
Office space occupied downstairs.
Also for hire at Redfern Town Hall