History of Beare Park
Beare Park has a magnificent harbourside setting along with strong associations with 2 of Sydney's finest houses, Elizabeth Bay House and Boomerang.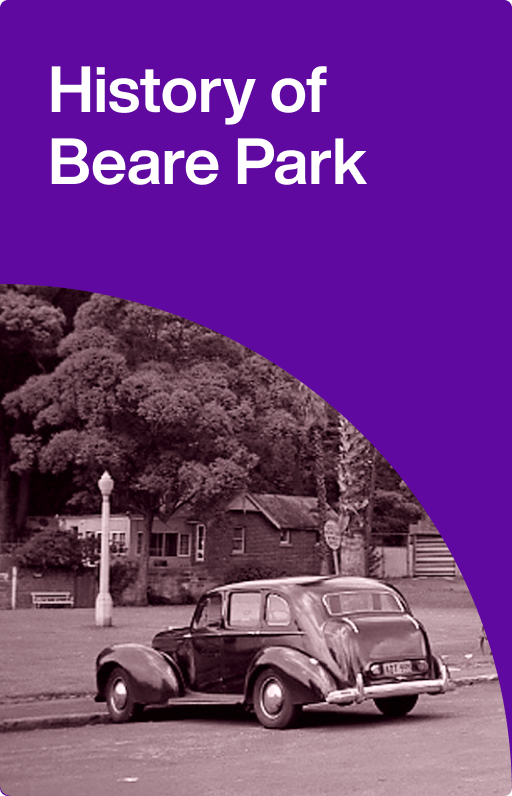 Beare Park and Kings Cross Rotary Park are at the end of Ithaca Road, bounded by The Esplanade and the foreshore at Elizabeth Bay.
All of the land comprising the parks is either part of the original 1831 grant of the Elizabeth Bay Estate to Colonial Secretary Alexander Macleay or reclaimed land adjacent to it. These gardens were notable for the integration of the gardenesque tradition of exotic plantings within native bush in an Australian landscape.
The original Elizabeth Bay Reserve, comprising a much smaller area, was named Beare Reserve in 1888 after John Beare, alderman from 1881 to 1899. One of Macleay's grandsons married a granddaughter of John Macarthur and founded the Macarthur-Onslow dynasty. The park was enlarged in 1901 when James William Macarthur-Onslow formally transferred the land above the high water mark to Council.
More land was added to the south of the park in 1954 with the resumption of parts of the grounds of 'Holmesby' (104 Elizabeth Bay Road) and JC Williamson's 'Tudor' (106 Elizabeth Bay Road). In 1980 Council acquired 1–3 Ithaca Road, comprising the former tennis court and part of the gardens of 'Boomerang', built in 1926. In 1991 this land was named Kings Cross Rotary Park to mark the 25th anniversary of the Kings Cross Rotary Club.
Beare Park has a magnificent harbourside setting along with strong associations with 2 of Sydney's finest houses, Elizabeth Bay House and 'Boomerang'. Apart from its heritage features it contains a group of tall Washington palms, near the intersection of Ithaca Road and The Esplanade, which are a local landmark. The City's Register of Significant Trees indicates these trees are probably remnants from the grounds of Elizabeth Bay House, and specifically the grounds of William John Macleay's Linnaean Society Hall built here in 1885.
Canopy fountain
The canopy fountain is one of a group of 8 highly ornamental drinking fountains brought from Glasgow in 1870. Its inscriptions include a biblical text from John 4: 13-14: "Whosoever drinketh of this water shall thirst again: But whosoever drinketh of the water that I shall give him shall never thirst".
Brick paving and Lion's head drinking fountain
On the western edge of Rotary Park, brick paving and a brick wall with a mounted drinking fountain are remnants of the former Boomerang Gardens. These elements are in front of a wrought iron gate which linked the former tennis courts to the rest of the Boomerang gardens.
Seawall
The seawall was built in 1901 as part of the reclamation strategy to create new parkland.
Spray fountain
This octagonal pool was in the grounds of 'Tudor' and may date back to the 1870s. The spray fountain was added in 1954.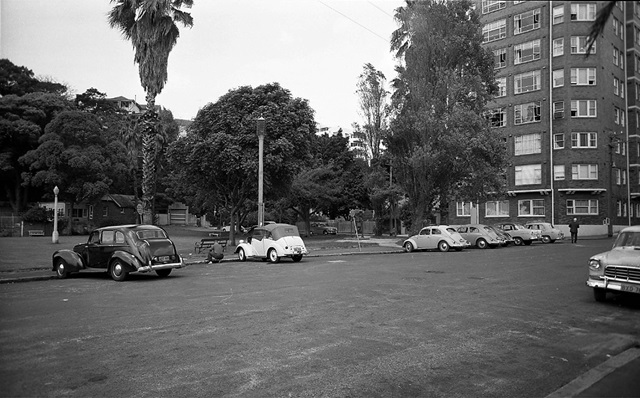 Further reading
Guy Sturt and Associates Pty Ltd, 'Beare Park [and] Kings Cross Rotary Park, Elizabeth Bay, Plan of Management and Landscape Master Plan', 2006
Rod Howard and Associates Pty Ltd, 'Heritage Assessment Report [on] Beare Park, Elizabeth Bay', 2005
LandArc Pty Ltd, 'Register of Significant Trees', 2005