Apply historic images to hoardings and scaffolding covers
Project Status:

When you need to do this

Our hoarding and scaffolding policy and guidelines require the use of historic images on temporary structures surrounding heritage building developments or located in heritage conservation areas of significance.

To help you meet this requirement, we have prepared a hoarding design template you may use, available as an InDesign file. This template can be populated with historic images, either from preselected images we've curated or your own images of the relevant building or streetscape.

The use of this template and our curated images is free of charge.
What you need to do
Review the guidelines

Read our guidelines on applying for hoardings and scaffolding. If you need assistance, we also offer professional advice.

Select historic images

You can do 1 of the following:

Choose free images preselected by the City Archives. These are grouped for specific locations and themes. They are all available in appropriate file sizes for large scale printing. They can be used on both hoarding site fences and fascia sections. Image citations to accompany each image on the hoarding are included.
Research and choose your own selection of free images from the City Archives collection or other organisations such as the State Library of NSW and the National Archives. You will need to ensure that the images you have selected are of sufficient quality and file size, and that the correct image citations are created.

Download the design template

The historic images hoarding design template creates a standard gallery for historical photographs to be printed and applied to eligible hoardings.

Use the template for your design

The black frame contains placeholders for both landscape and portrait orientation imagery and a standard style and placement for image citations.

Landscape and portrait images can be placed end-to-end in various combinations to suit a variety of different hoarding dimensions.

Lodge your artwork with your temporary structures application

Your artwork must accompany your application for hoardings, scaffolding and other temporary structures.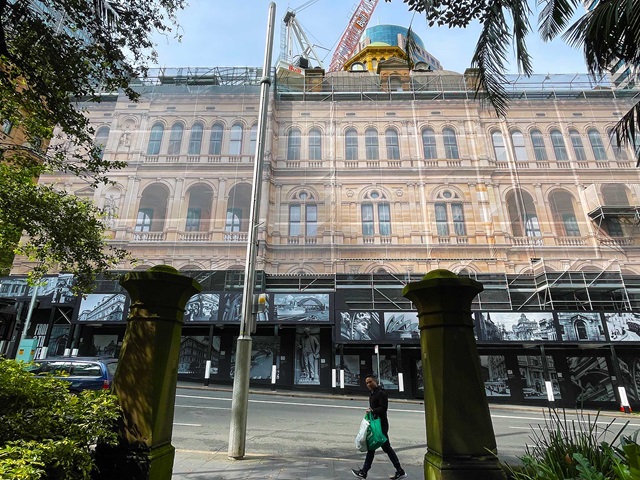 People love reflecting on the past and imagining the future. You can help Sydneysiders to step-back-in-time to reimagine our urban environment with life-size archival images from our City Archives. There's a whole new layer of Sydney just waiting to be discovered.
– Lisa Murray, City historian
Using creative graphics
We require the use of creative graphics on temporary structures in high traffic areas.
There are currently 3 options for installing artwork on eligible hoardings.
Bespoke. You may create or commission your own site-specific artwork. Designs will require our approval and an image of your proposed design must be lodged with your application.
Historic images. Temporary structures surrounding heritage-listed sites or in areas of heritage significance are required to display historic images of the locality. To help you meet this requirement, we have developed a design template and can supply photographs.
Site Works. We called for artists and designers from across the nation to propose artworks for display on hoardings. We selected and licensed 10 artworks. These are available to use on eligible hoardings free of charge. In some cases we may require these artworks to be used.
Where hoardings and/or scaffolding are erected on public land including roads and footpaths, we reserve the right to display community information about major projects, festivals and special events. You'll be advised during the application process if we intend to exercise this right.
Which graphic is right for your site?
*In these cases, graphics are only required if the hoarding is installed for more than 12 weeks. Please refer to table 1 in the guidelines for hoardings and scaffolding.