Multipurpose courts, King George V Recreation Centre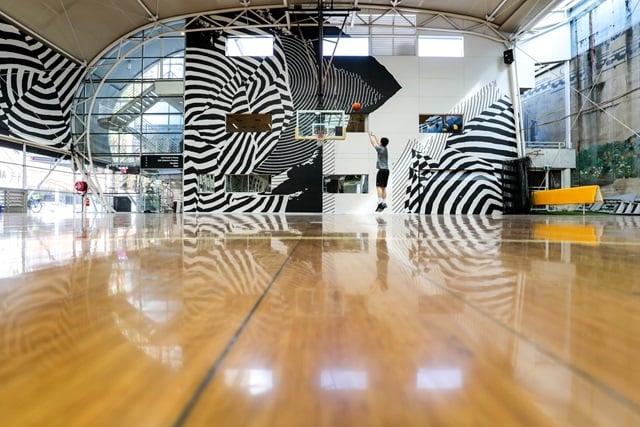 King George V Recreation Centre has multipurpose courts available for hire. The indoor and outdoor courts can be used for a variety of sporting activities.
Court hire
These courts aren't available to hire.
Availability
Operational hours can be extended for special event bookings.
Monday to Thursday

6am to 11:30am

2:30pm to 5:30pm

Friday

6am to 11:30am

Sunday

10am to 12 noon
Level access entrance

included

Changing places facilities

not included

Accessible toilets

included

1

Ambulant toilets

not included

Entry door type

included

Automatic – double doors, each 1020mm wide, open outwards, towards entrance.

Floors

included

2 – access to gym is by 2 flights of stairs, 18 steps in total. We can arrange access by ramp with 2 elevations.

Onsite mobility parking

not included

Mobility parking within 300m

included

Lift

not included

Hearing support system

not included
Cost to hire
Standard
Indoor court
Basketball, netball and futsal
Sport equipment
Equipment for most sports we host available for hire.
Cost to play casually
Where courts are available, casual play costs $6 per person. No booking required.
Availability window for each sport is listed below:
Indoor court
For special events, this space can be set up with netting and rings raised to create an open area of 17m by 60m.
For sports events, the space can be set up for the following courts:
Basketball: 2 international-sized courts – 15m x 28m each
Netball: 2 courts – 15m x 28m each
Futsal: 2 courts – 17m x 28m each
Volleyball: 2 international-sized courts, or 4 smaller volleyball courts – 8.5m x 17m.
Badminton: 6 courts – 6.1m x 13.4m.
Outdoor court
This court has a synthetic grass surface with sand underlay.
Futsal court is 17m x 28m.
During extreme weather conditions such as lightning storms, the outdoor courts will close for play.