Make food scraps recycling work in your apartment building
Information and resources for building managers and building champions. Learn how you can help make the trial work in your building.
Project Status:

When you need to do this

If you're the strata manager of a building interested in joining the trial, or the manager or champion of a building that's already in the trial, you'll find information about what's involved and resources for your building.
Building resources
Download posters, letters and other helpful resources to share with your residents.
What you need to do
To get your building involved in the trial:
Register your interest in joining the food scraps recycling trial

If you live in an apartment, register your interest for the trial by calling us on 02 9265 9333 or emailing

[email protected]

We'll email you an invitation to join the trial when spaces open up.

Get strata committee approval

Discuss the food scraps recycling trial with your strata committee. Email a copy of strata minutes resolving to take part in the trial to

[email protected]

Nominate a building contact for a site assessment

Nominate a contact person who we can communicate with about the trial in your building.
We'll conduct a site assessment with the building contact, look at your building's waste systems and bin storage area and answer any questions your building contact may have.

Apartments register online to take part

Each apartment that wants to join the trial in your building must register online to take part and receive their free kitchen caddy pack. We'll provide posters and postcards to communicate this.
In larger apartment buildings, we'll conduct an info session so residents can ask questions and sign up before the trial begins. We'll discuss this with the building contact.
Kitchen caddy packs will be delivered to the building's contact person to distribute to residents who have signed up.
If you're already in the trial, here's how to make it work:
Receive your bins and initial delivery of caddies

We'll deliver everything you need for the trial to your building. In your first delivery you'll receive: maroon lid food scraps bins, bin room signs and kitchen caddy packs for residents who've registered.

Set up the building

Place maroon lid bins in your bin storage areas.
Install the sign directly above the bins or as close as possible.
Distribute the kitchen caddy packs to residents.

Know what you can and can't put in the food scraps bin

Familiarise yourself with what can and can't go in the food scraps bin – see below. Refer to our bin posters and stickers for additional guidance.
The basic rule of thumb is: if it's food it can go in the food scraps bin.
Please don't put plastic, degradable or biodegradable bags in the food scraps bin.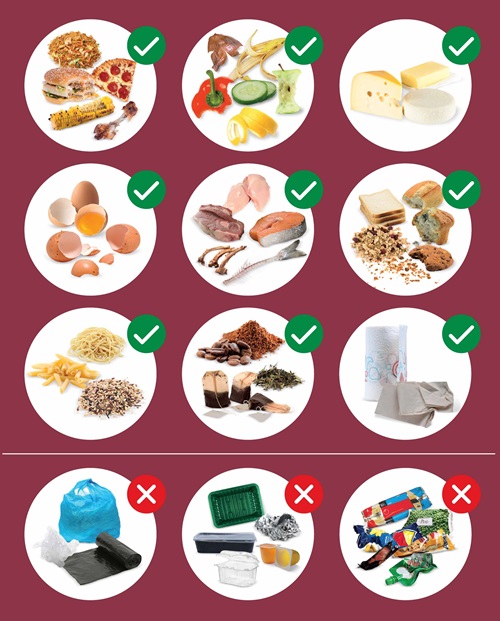 Get ready for collection

Your first collection will start the week after you receive your maroon lid bins.
Your bins will be collected on Monday and Thursday mornings.
Bins should be put out for every collection no matter how much is in them.
Remember to give the bins a rinse each week.

Spread the word

Let all building staff know about the service.
Put up the service posters in common areas.
Have conversations with residents about the service.
Use any other building communication channels such as emails, text messages and Facebook groups to let residents know about it.


Building resources

Help manage new sign ups

When new residents sign up, we'll notify you and deliver their kitchen caddy packs the next Friday for you to distribute.

Look for our ongoing check ins

We'll call you to see how the service is going.
We'll send you some reminder postcards and posters for the building.
This project was supported by the Environmental Trust as part of the NSW EPA's Waste Less, Recycle More initiative funded from the waste levy.