City transformation: Sydney's transport network upgrades and changes
Several transport infrastructure projects are being provided by the NSW Government including light rail, Barangaroo Ferry Hub and a harbour tunnel.
Project Status:

In progress

Some parts of our area will double in population over the next 20 years. To cope with this extraordinary growth, Sydney's transport network is undergoing major changes.
City of Sydney
GPO Box 1591

Sydney 2001
What we're doing
Every day 1.3 million people are in our area to live, work, study, do business, shop and go out. We're working to unlock the city centre's potential to become a more attractive, vibrant and connected place to live, work and visit.
Benefits of city transformation
Community consultation on our vision for George Street highlighted a desire for a well-designed, attractive plaza lined with trees, street furniture and public art. Along with:
high level support to remove buses and install light rail to improve access for people walking
excitement about George Street becoming a new destination to meet, socialise, dine and shop
support for a visually attractive 'wire-free' light rail system in areas where people walk
using trees and public art to create a sense of space along what will become Sydney's major boulevard.
We're also planning to improve major public squares at Town Hall and Circular Quay, with a new square at Railway Square, Central station.
City transformation projects
A series of transport infrastructure projects provided by the NSW Government include light rail from Circular Quay to Randwick and Kingsford, a redesigned bus network, major upgrades to train stations, Wynyard Walk, Barangaroo Ferry Hub, Sydney Metro and a harbour tunnel.
These developments will have an impact on everyone who lives, works and travels in the city centre.
For full details, visit My Sydney.
George Street
The NSW Government's 12km light rail line connects Circular Quay to Randwick, Kensington and Kingsford.
George Street has undergone one of the biggest transformations ever seen in Sydney as part of the light rail line. We're working closely with the NSW Government to create inviting public spaces where people live, shop, visit and do business.
There's more space for people walking along the strip. Greater space will mean cafes and restaurants can introduce outdoor dining areas.
Our public domain activation strategy for George Street sets our vision for a tree-lined street with areas for public seating, new lighting and public art.
Existing driveway access for buildings will be maintained and roads travelling east and west will remain open to vehicles. Delivery vehicles and taxis servicing the Hilton will travel along George Street as normal.
The revamped George Street is an easy way to travel between key attractions from The Rocks and Circular Quay to the city centre's retail heart and down to Chinatown.
Light rail also links passengers to the International Convention Centre at Darling Harbour.
Contacts
Transport for NSW light rail team:
Project information line: 1800 684 490
Email:
[email protected]
Light rail
The CBD and South East Light Rail is the light rail network for Sydney. The 12km route features 19 stops, extending from Circular Quay along George Street to Central station, through Surry Hills to Moore Park, then to Kensington and Kingsford via Anzac Parade and Randwick via Alison Road and High Street.
Contacts
Sydney CBD and South East light rail team:
Project information line: 1800 684 490
Email:
[email protected]
Web:
Transport NSW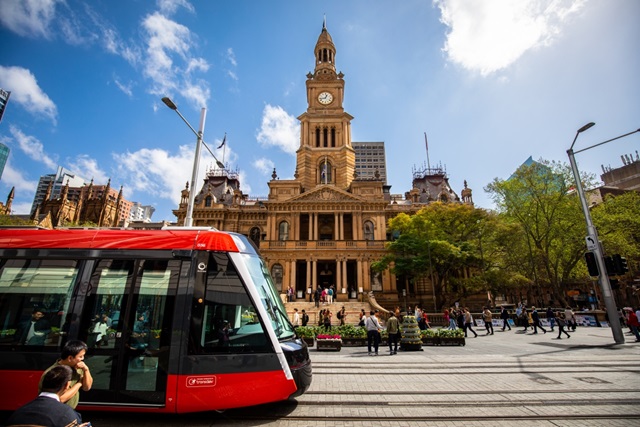 Buses and cycleways
In 2015 a redesigned bus network was introduced by Transport for NSW in the city centre. It is a key part of an integrated transport plan to meet the needs of Sydney's growing population.
Buses that used to run on George Street have been re-routed. Buses in the city centre now operate mainly along new priority routes on Elizabeth, Castlereagh, Park, Druitt, Clarence and York streets.
Some buses now terminate outside or at the edge of the city centre, adjacent to other public transport options. Passengers on these services now need to complete their journey by rail, ferry, an alternative bus or walking.
Additionally, private and commercial drivers are being asked to re-route around the city centre as well as reduce peak hour trips and re-time when travelling to, through and from the city.
Better transport integration
The NSW Government's City Centre Access Strategy aims to better integrate all transport modes, and put the right transport modes in the best places.
More information on the bus infrastructure and cycleways in the city centre is available on the RMS website.
Sydney Metro
When Sydney Metro is extended into the city centre and beyond in 2024, metro rail will run from Sydney's booming northwest region under Sydney Harbour, through new underground stations in the city centre and further to the southwest.
You might also be interested in