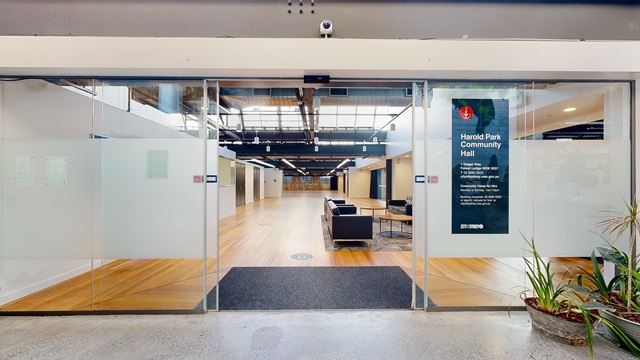 Located within the Tramsheds complex and transformed to an accessible and sustainable community venue available for hire.
Availability
Monday to Sunday

7am to 10pm
Make an enquiry
We require 2 weeks notice.
Close to transport

included

Public transport nearby.

Walking distance to Jubilee Park Light rail station (100m).

Stage

included

Portable stage.

Air-conditioning

included

Wifi

included

Tables and chairs

included

20 trestle tables and 200 chairs. Couch and chair in breakout area.

Chair trolley

included

Projector screen

included

Motorised wall-mounted projector screen.

Fully sprung dancefloor

included

Blackout curtains

included

Black out curtains are available however they do not cover windows in the ceiling, the hall cannot be completely blacked out during daylight hours.

Kitchen

included

Includes

fridge, microwave

and bain-marie.

Instant hot water (Zip system)

included

Pie warmer

included

Stainless steel benchtops

included

Dishwasher

included

Stove and oven

included

Electric stove top and oven

Parking

included

First 2 hours free on-site car park. This parking is public and is not exclusively for this venue.
Onsite mobility parking

not included

Mobility parking is located in the Tramsheds car park about 30m from the community hall. This parking is public, and can't be reserved.

Mobility parking within 300m

not included

Level access entrance

included

Entry door type

included

Floors

included

Lift

not included

Lift in the Tramsheds precinct that connects Maxwell Road to the venue level.

Accessible toilets

included

1

Ambulant toilets

not included

Changing places facilities

not included

Hearing support system

included
Cost to hire
Standard
Weekdays after 5pm, all day on weekends and public holidays
Day rate
Monday to Friday, 9am to 5pm only
Weekend full day rate
Including public holidays
Concession
Community hire rate
50% discount on standard hire rate
Self help groups
50% discount applies to community hire rate
Other
Cleaning fee
Quotation available on request
Security fee
Quotation available on request
Room set-up fee
Quotation available on request
Wedding surcharge
Booking fee + 10%
Additional site inspection
1 included each booking
$88.50
Support for community groups
Eligible community groups can apply for support to hire this space through these programs.
Conditions of hire
These conditions of hire apply to the use of our unstaffed community venues by all hirers.
The City of Sydney aims to provide the local community with a variety of venues that are well maintained and accessible.
We ask that you read and understand these conditions of hire to ensure your use of our community venues runs smoothly, is safe and complies with the City of Sydney's regulations.
Other considerations
Additional cleaning can be arranged.
Some functions may require additional security.
Gold licence caterers required for alcohol service, venue is unlicensed.