Community gardens policy review
Seeking the community's input as part of our review of the community gardens policy and guidelines, including community composting guidelines.
Project Status:

Under review

Thank you to everyone who took part in our online survey and community workshops. We received 200 responses to the survey and feedback through the online workshops. You can view the insights report with key outcomes from the consultation.

As part of this review and feedback received during the recent greening Sydney strategy consultation, we will review the footpath gardening policy, explore laneway greening and create an overarching community greening policy that includes guidelines for community gardens, footpath gardening and laneway greening. We will keep you updated as this work progresses.

Public consultation period

to
What we're doing
We have 23 community gardens where groups come together to grow fruit and vegetables, learn skills, meet new people and provide a home for local wildlife, including native bees. Each garden is unique and we would like to support more gardens in our area.
We want to know your vision for community gardens and why they matter to you. Help us continue to nurture and grow community gardens and support local groups, and to ensure community gardens are inclusive and accessible places.
We're committed to recognising and celebrating the living culture of Aboriginal and Torres Strait Islander peoples, and exploring opportunities to share knowledge about native plants and their uses.
Let us know the reasons you are interested in community gardens, and your ideas on the benefits they bring to the community.
We're also seeking input on how we can improve our guidelines to ensure they're a useful tool for establishing and managing your garden.
Your feedback will be used to shape our revised community gardens policy and guidelines, along with our guidelines for community composting.
Visit our webpage to see a list of community gardens in the City of Sydney.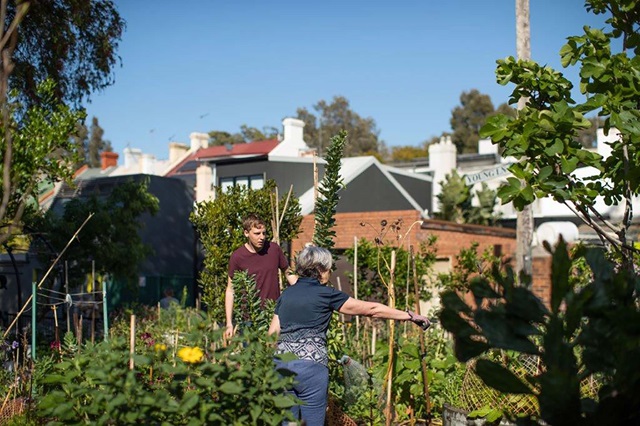 How you can give feedback
Consultation closes at 5pm on Monday 9 November 2020.
There are 3 ways you can be involved and provide us with your feedback:
Complete our online survey

Register for an online workshop

Talk to us
Katrina Guyatt
Coordinator, City Conversations and Community Relations
Jenny Kent
Community Garden and Volunteer Coordinator
Other ways you can give feedback
Accessibility needs
If you have any access or communication needs please contact Katrina Guyatt on 02 9265 9115 and we will be happy to discuss your needs.
Next steps
The revised draft policy will also be placed on public exhibition and available for community feedback in 2021. All submissions will be considered, before the policy and guidelines are finalised and reported to Council for adoption.
Feedback may be published in publicly available reports at the end of the consultation period. Your name or organisation's name may appear in these reports with your feedback attributed. If you would like your feedback to be kept confidential, please let us know when making your submission.
Existing policy and guidelines