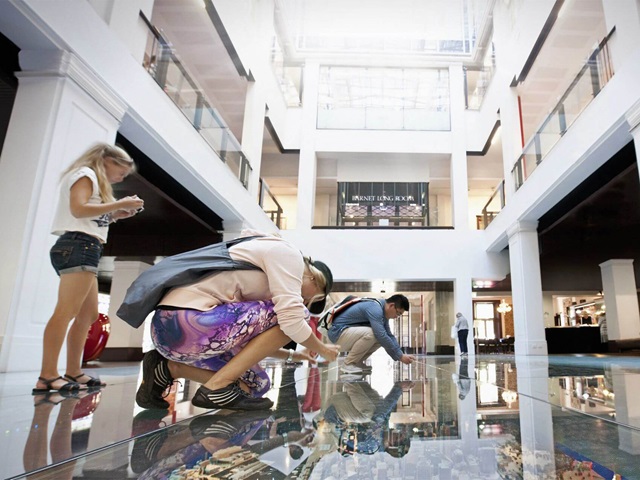 Step into Customs House and marvel at this spectacular scale model of downtown Sydney. Displayed under a glass floor on ground level.
Put our city into perspective. Spot the miniature sights you've seen or will see in real life.
Visitors love to get orientated while children enjoy tracing the streets with their feet and pretending they're giants as they stomp over Sydney.
Handcrafted for over 20 years and regularly updated, our City Model is even more striking at night when it comes alive with hundreds of fibre-optic lights illuminating the streets.
Climb the helix stairs to the first floor for a bird's eye view. While you're there, put your friends and family on the map – literally. Get them to pose for a photo.
Opening hours
Monday to Friday

8am to 12 midnight

Saturday

9am to 12 midnight

Sunday

9am to 5pm
City model at a glance:
Depicts 10 square kilometres of downtown Sydney

150+ finely detailed landmark

1500+ solid acrylic block buildings

Weighs almost 1 tonne

36kms of fibre optic cables

Over 5000 trees

2mm on model = 1 metre