Book a doorstep recycling collection for tricky household items
Recycle batteries, polystyrene, clothes, electronics and other tricky items from your doorstep or apartment lobby with a free, contactless RecycleSmart Power Pickup.
Free if you subscribe for regular pick-ups.
Project Status:

When you need to do this
Soft plastics no longer accepted for recycling
Due to processing issues, we can no longer accept soft plastics for recycling through Recycle It Saturday drop-off events, the doorstep recycling service and the Ultimo recycling pop-up. Please put them in your red lid bin.
What you need to do
Check that your items can be collected
Book a Power Pickup with RecycleSmart

Visit the RecycleSmart website or download the app on your phone.
Subscribe to a free regular pick-up of up to 2 bags
Select a date
Prepare your items for collection

Put all items inside a reusable supermarket shopping bag.
If you live in an apartment building, write a note and attach it to the bag so your neighbours know it's being collected.
Put your items out before 8am on your scheduled pick-up day

A driver will come by to collect your items before 2pm.
If you live in an apartment building with secure access, you can leave your bags outside near the entry or letterboxes. Or if you're home, leave them in the lobby and buzz the driver in.
If you live in a house or terrace, leave your bags at your doorstep.
Retrieve your empty bags

The driver will leave your empty sturdy reusable bags where you left them – don't forget to retrieve them.
What happens next
The driver picks up your bags between 8am and 3pm.
You'll receive a notification when your items have been picked up.
Your items are delivered to our Alexandra Canal Depot, where they are sorted for reuse or recycling.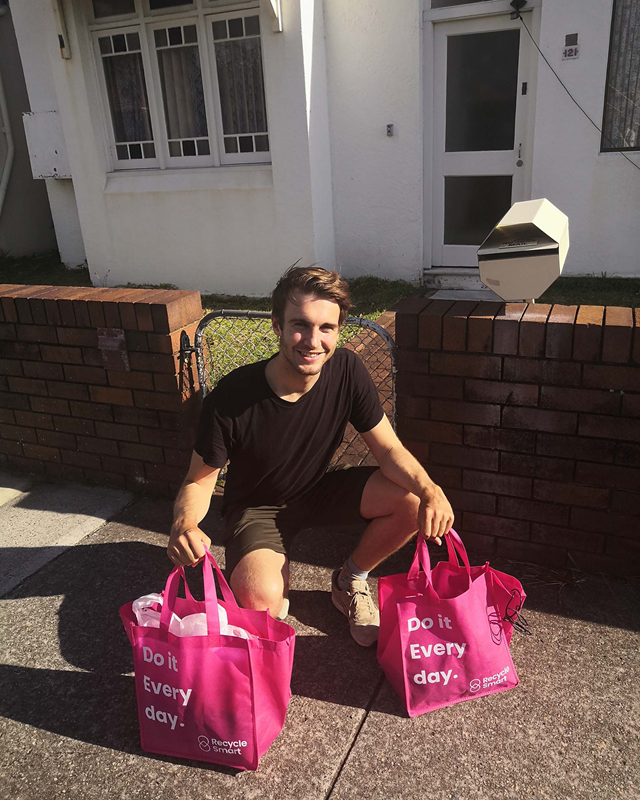 If something doesn't go to plan 🙁
If your bags aren't picked up before 3pm on your scheduled day, contact RecycleSmart at

[email protected]

and they'll get back to you as soon as possible.
If you need to change or edit your booking, log in to your account on the RecycleSmart website or app. Changes need to be made by 4pm the day before your scheduled pick-up.
If you forget to put out your bags, RecycleSmart will be in touch with you to reschedule your booking.
If items were left in your bag, they are likely not accepted. RecycleSmart will contact you with more information.
Why we're doing this
We're providing residents with a convenient way to recycle tricky items that don't belong in kerbside rubbish or recycling bins.
The doorstep recycling service will help us reach our goal of zero waste to landfill by 2030.