Book a free pick-up for bulky items
We'll collect old furniture, mattresses, whitegoods, electronics and other big household items you no longer need.
We're currently not taking bookings for bulky items.
Project Status:

When you need to do this

You're eligible to use this service each week if you're in our local area and:
You live in a house or terrace.
You live in an apartment building. If your apartment building has a building manager or booking contact, book this service through them instead.
You're a building manager or booking contact for an apartment building.
Don't book a pick-up if:
Bookings paused and major collection delays
We're currently not taking bookings for bulky waste collections.
If you have an existing booking, please leave your items out while our crews work to collect the extensive backlog.
Bookings for mattress collection are accepted by phone on 02 9265 9333.
Building managers and residents with urgent waste issues can call us on 02 9265 9333 to discuss exceptional arrangements.
We apologise for any inconvenience caused and we hope to resume taking bookings soon.
Recycle It Saturday
Drop off old electronics, polystyrene, soft plastics, clothes in great condition, x-ray scans, household gas cylinders and more at Recycle It Saturday, 9am to 3pm on Saturday 18 February at Alexandra Canal Depot.
Please note soft plastics are no longer accepted for recycling across all our services.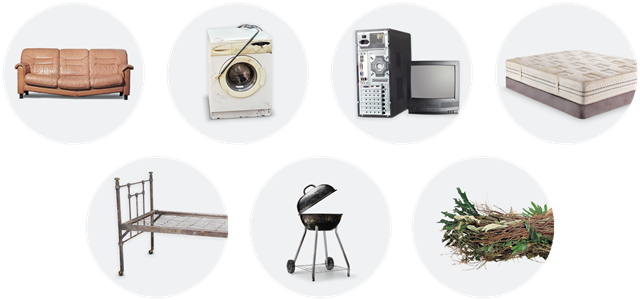 Check that your items can be collected
If your items are still in good and working condition, try to find a new home for them first. Find out more about reducing, reusing and repairing.
What can be collected 👍
What can't be collected 👎
Make a booking
Download our bulky waste pick-up schedule to find out which day of the week we pick up in your area. Bookings made by 2pm the day before your scheduled collection day will be picked up that week.
How to book
Book a pick-up online
Free service for City of Sydney residents.
Prepare your items before collection
Write a note and include your booking number. Attach the note to your items so neighbours know it's an official booked collection.
Cut large rugs into 1m lengths, roll and tie them with string or tape. Otherwise, they can jam compactors.
Keep loose items contained or tied up: put small items in a box. Loose materials won't be collected. This includes garden organics – make sure they're bundled and tied together.
Put your items out the night before your scheduled collection
Don't put your items out earlier than this as passers-by may add to the pile. Or the entire pile may be considered illegal dumping and rejected by our collection crew, potentially resulting in a fine. Check your confirmation email for your collection date.

Separate your items into 3 groups listed below. Place items in the same group together, and slightly away from items in other groups. For example, furniture and bulky household items should be in a separate pile, away from metals, whitegoods and electronics. These groups are collected by different trucks and transported to different processing facilities. If your item is booked under the wrong group, it won't be collected.

Group 1: mattresses
Group 2: furniture and bulky household items
Group 3: metals, whitegoods and electronics

Check your items are accepted.

If you have a building manager or contact responsible for managing your building's booking, follow their instructions on where to leave your items.

Make sure your items are placed in the correct location for pick-up. Items must be placed in an accessible location next to your property that is easy to see from our trucks. Don't place items behind trees or vehicles that could prevent our drivers from seeing them. We won't collect or move items from inside your property, including your driveway, porch or front yard. Some properties have multiple access points. Check your confirmation email for the pick-up location or follow instructions from your building manager or booking contact. If your items are placed in the wrong spot, including private property, they won't be collected.

Size matters: if you live in a house, keep your pick-up to 1 cubic metre per booking, or about a box trailer load. For apartment buildings, the limit per booking is 4 cubic metres.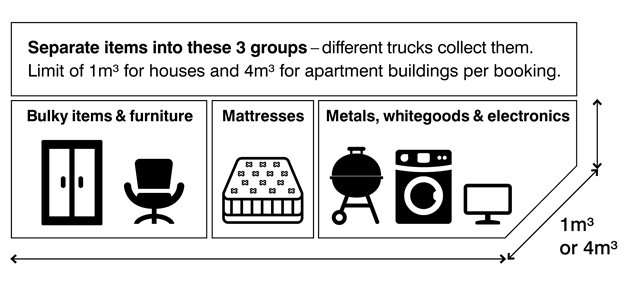 If something doesn't go to plan 🙁
Tips to manage booked collections in apartment buildings
Our system allows 1 booking for each item group per apartment building each week. Most apartment buildings arrange for the building manager or a key contact to book 1 pick-up on behalf of all residents.
Where does it all go?
We recycle what we can and safely dispose of the rest.
Mattresses are sent to our contractor, who recycles up to 75% of mattress parts. Steel springs are recycled into products like metal roofing. Foam is turned into carpet underlay. Timber can become weed matting and mulch. Textiles are used in products like acoustic panelling.
Furniture and bulky household items are collected and taken to a transfer station where metals and plastics are removed for recycling. The rest of the items are sent to landfill. If your items are still in good, working condition, try to find a new home for them first.
Whitegoods are usually made of valuable metals and plastics. Our processors first remove any hazardous chemicals or heavy metals. Whitegoods are then crushed and shredded for recycling. Recovered materials like copper, steel and plastics can be turned into new metal and plastic products.
Metals like aluminium or steel from common appliances are 100% recyclable and can be recycled over and over again. Metals are melted down to be reused in new production.
Electronics are broken down into various parts and materials including glass, metals, plastics, batteries, cabling and circuit boards. These go back into the market to make new products.