Recycle batteries, mobile phones and light bulbs
Learn how to recycle these items in the easiest and most convenient ways.
Project Status:

When you need to do this
Some of the below services or drop-off locations may be temporarily impacted due to Covid-19.
Please check that your items will be accepted before dropping them off.
Recycle It Saturday
Drop off old electronics, polystyrene, soft plastics, clothes in great condition, x-ray scans and more at Recycle It Saturday.
Our next Recycle It Saturday will be held from 9am to 3pm on Saturday 28 May at Alexandra Canal Depot.
Find out more
.
We can't accept any paint at this Recycle It Saturday. If you have paint to recycle, hold on to it for now. We hope to accept paint again at our drop-off events later in the year.

How to recycle batteries
Battery safety: what you should do when storing or recycling batteries
Store your batteries in a cool, dry place, away from a heat source. For example, don't store in the sun or near the microwave.
Don't use a metal container to store batteries.
Don't mix household batteries with other battery types like car batteries.
Drop off your collected batteries regularly.
How to recycle mobile phones and their accessories
You can recycle all types of mobile phones plus their chargers, cables, batteries kept in the phone, and headphones through:
Don't forget to delete your data. Make sure all data is permanently wiped from your device before you recycle or give it away.
If your mobile is working, consider finding it a new home first. You could give it away or try advertising online through Facebook Marketplace, Gumtree, Trading Post, eBay or Freecycle.
How to recycle light bulbs
Always wrap light bulbs in newspaper and transport them in a bag or box so they don't break.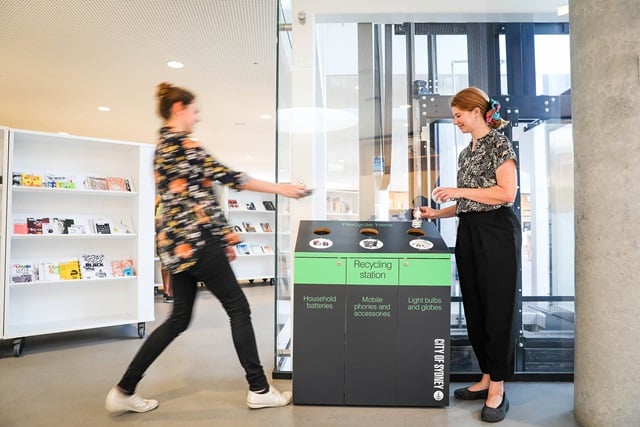 Where to find our recycling stations
Old household batteries, mobile phones and small light bulbs – excluding fluorescent tubes – can be taken to recycling stations at one of the locations below.
Customer service centres
Libraries
Community centre
After you finish
Our contractor collects and recycles the items locally, using state-of-the-art processes and facilities.
In their next life:
old batteries can come back as brand new ones
mobile phones can be taken apart and 'mined' for gold, silver and palladium
light bulbs can be broken down and recycled into glass wool insulation. The mercury is safely recovered for other uses, such as in thermometers and new electronic devices.
Why it's important to recycle it right
Batteries in your rubbish or recycling bin can cause fires in our collection trucks and harm our community. Button batteries left around the home can be accidentally swallowed by children and cause serious injury or death.
If batteries, mobile phones or light bulbs are placed in your yellow or red lid bins, they can contaminate recyclable materials, leach toxic chemicals into our soil and contaminate the source of our drinking water.
Some also contain valuable resources, like precious metals, that can be used in the production of new materials. This helps reduce the need for mining raw materials.