Musical instruments collection
Practise on our acoustic and electric guitars, keyboards, ukuleles and other equipment.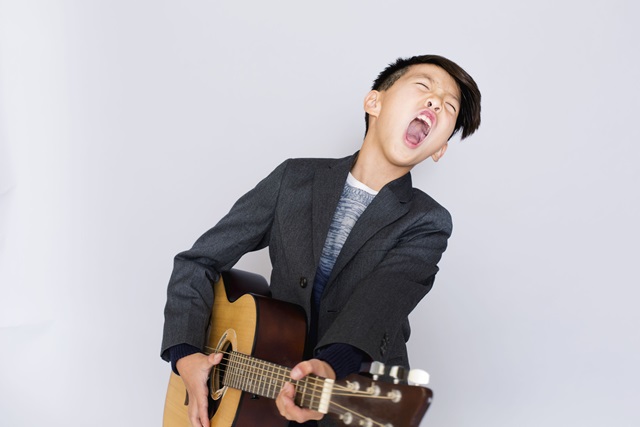 Learn to play
If you're new to music or have been playing instruments all your life, we've got equipment for members to borrow.
For use at the library
Our Green Square Library has a new collection of acoustic and electric guitars, keyboards and amplifiers for library members.
This collection is available for use when hiring the music room.
Book online for the music room or ask our library team.
When you book a music room, you can select the instruments and equipment you want to use in the space.
Hire fees apply to use the music room only. Use of all instruments and equipment is included in the hire cost.
Ukuleles available to borrow
Our collection of ukuleles is available to borrow and take home from both Kings Cross and Green Square libraries.
Library members can borrow 1 ukulele for up to 3 weeks at a time.
Ukuleles can be reserved using the online catalogue, however they need to be collected directly from the library team. The instruments need to be returned to a team member at the branch from which they were borrowed.
Fees apply
for lost or damaged items.
Alternatively, members can replace the lost or damaged item or part with the exact item or model number in new condition.
Other musical instruments
(available for Green Square Library music room hire only)
Acoustic guitar
Art & Lutherie ART610 CW Qit Dreadnought Acoustic-Electric Guitar. Includes hard case, cable and strap.
Classical guitar
La Patrie Arena Flame Maple Classical Cutaway. Includes soft case, cable and strap.
Electric guitar
Squier Classic Vibe Telecaster 50s. Includes hard case, cable and strap.
Electric bass
Squier Vintage Modified Jazz Bass 70s. Includes hard case, cable and strap.
Music equipment
Bass amplifier
Mark Bass CMD JB Player School Jeff Berlin
Digital mixer and recording system
Soundcraft Ui24R
Electric guitar amplifier
Fender Blues Junior IV Amplifier Black
Microphones
Dynamic vocal microphones
Dynamic instrument microphones
Condenser microphones
Portable synthesiser
OP-1 portable synthesiser
Stockholm: Teenage Engineering
Stereo professional headphones
Microphone, music and guitar stands
Instrument cables