Music room, Green Square Library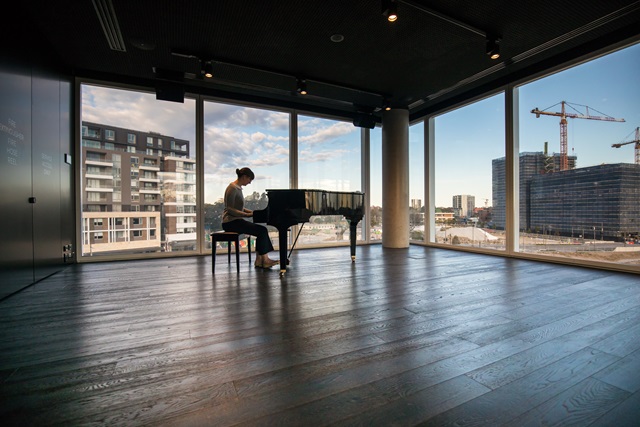 Suitable for rehearsals or as a recording space with a capacity of 20 people.
Availability
Monday to Wednesday

10am to 6:30pm

Thursday and Friday

10am to 5:30pm

Saturday

10am to 3:30pm

Sunday

Closed

Public holidays

Closed
Make a booking
Sorry, our venues are temporarily closed.
Recording equipment

included

Recording equipment available for loan:

digital soundcraft mixer and recording system with:
3 dynamic vocal microphones
3 dynamic instrument microphones
2 condenser microphones
2 instrument DI boxes.

Musical equipment

included

Musical equipment available for loan:

acoustic guitar
classical guitar
electric guitar
electric guitar amp
bass
bass amp
instrument cables
key and pad USB MIDI controller
synthesiser
stereo professional headphones

Data projector

included

Data projector and screen with blu-ray player, HDMI and VGA input

Baby grand piano

included

Microphone

included

1 handheld and 1 lapel microphone, 6 mic stands

XLR input

included

Tables and chairs

included
Accessible toilets

included

Wheelchair access

included

Lift

included
Cost to hire
Concession
Community use
50% discount on standard hire rate
Conditions of hire
Commercial parties who hire City facilities must have $10 million public liability insurance coverage. Individuals and small community groups can apply to be covered under the City's community engagement liability policy.
Before hiring a City of Sydney community venue, we ask that you read and understand the conditions of hire.
Other considerations
Booking requirements
Hirer must bring:
USB thumb drive or hard drive for recording
Additional musical equipment required:
XLR cables etc
laptop for music editing or presentations
Exclusions and limitations
The music room cannot be used for large performance events. No food or catering allowed. Bottled water is okay. Toilet facilities in the tower at Green Square are limited to 1 accessible toilet on Level 3. Set up and pack up must occur within the hire period. The library is a non-alcoholic and non-smoking venue.
Also for hire at Green Square Library