Visitor profile and experience survey 2017
We undertook research to help businesses identify possible considerations and opportunities.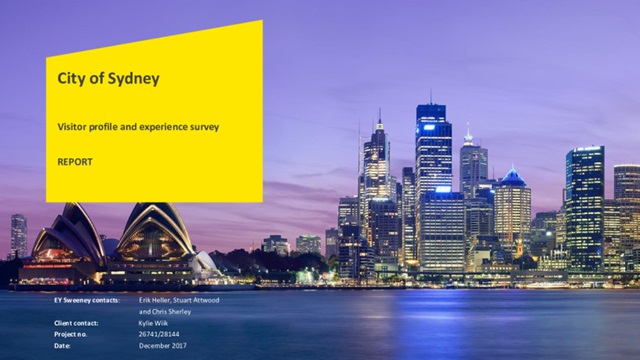 Takeaways
Our local neighbourhoods cover various commercial day and night-time economies that offer customers a diverse range of products and services.
From casual eateries, to high-end dining and retail at all scales, each precinct has a distinct local character.
The research looks to help businesses identify possible considerations and opportunities in each area.
Business Precinct Coordinator
The 2017 survey
The objective of the research was to understand:
the types of people who are active in commercial areas across the city over an 18 hour time frame
their main reasons for visiting various locations
their behaviour when in the area and how they felt about the experience
their indicative spend while in the area
how they travelled to and from different locations.
In 2017, nearly 6,000 surveys with international guests, domestic visitors and Sydney residents were carried out in our village centres.
For this research study, the 10 village centres were further segmented into 11 areas to identify the different night-time economy profiles in CBD central, which includes parts of CBD north and CBD south.
The overall findings were summarised by village area and scorecards for each area produced.
The scorecards are an easy to read visual summary of the findings, arranged by village centre.
Each scorecard will tell you:
the gender, age and household income of people in the area, as well as whether they're a local or visitor
their satisfaction with visiting the area
why they visited
whom they visited with
what they visited for
how often they visit
how they spent their money
how they rate the food, shops, safety, ease of navigation, culture and entertainment in the area
how they discovered what to do in the area
what they think could make their visit better
how they got there and how they were planning to leave
Our overall findings were:
Sydney's inner-city attracts a wide range of visitors from different locations, ages and social backgrounds
what people do in each precinct varies significantly between daytime (9am to 6pm) and night-time (6pm to 12am) – despite this, more than 1 in 5 night-time visitors said they would like to see more shops open
3 in 4 visitors said they use online channels to find out about things to do in Sydney (for example, websites, social media, online searches).
The full report contains more detail on these findings, as well as information on how the different areas compare to each other.