Join us for Sydney Streets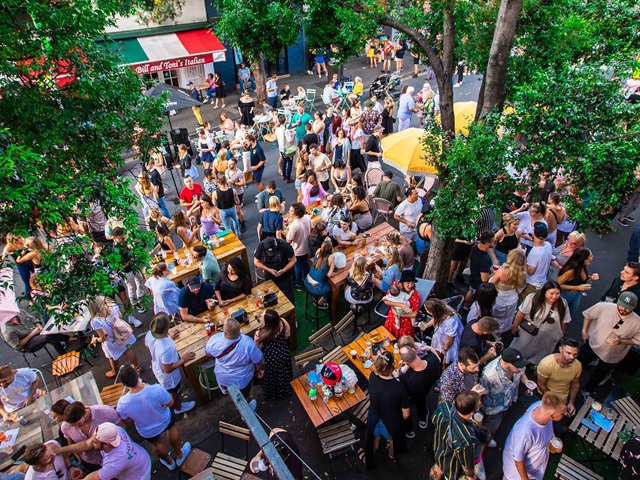 We're transforming village high streets into spaces for walking, shopping and dining with a series of special events.
Sydney Streets EOI
Apply to activate road space in front of your premises
Tony Macgregor
City Business Coordinator
What we're doing and why
Sydney Streets returns from October 2022 for street closures across 7 locations. Our aim is to celebrate local neighbourhoods, bring communities together and support our high street businesses. For local businesses, it's an opportunity to produce in-store activations to help attract customers and patrons to their venues, and potentially extend trading to outdoors subject to availability and approval.
Along with enabling road closures, we'll provide some acoustic roving entertainment, chairs and tables around the street and portable toilets.
Sydney Streets is part of our community recovery plan, supporting the economic and social recovery of businesses and local communities impacted by the pandemic.
Event details
Event date
Sydney Streets event
Expression of interest deadline

Saturday 1 October


11am – 10pm


Crown Street – between Cleveland and Foveaux street

Sunday 4 September
Saturday 8 October


11am – 10pm

Harris Street – between Pyrmont Bridge Road and Union Street

Sunday 4 September

Saturday 15 October




11am – 10pm

Stanley Street – between Yurong and Crown street

Sunday 11 September

Saturday 22 October




11am – 10pm

Redfern Street – between Regent and Chalmers street

Sunday 18 September

Saturday 29 October




11am – 10pm




Haymarket – parts of Dixon, Hay, Little Hay and Sussex streets

Sunday 2 October
Saturday 5 November


11am – 10pm

Glebe Point Road – between Parramatta and St Johns roads

Sunday 2 October
Saturday 12 November
11am – 10pm

Darlinghurst Road and Macleay Street – between Bayswater Road and Hughes Street

Sunday 9 October
Dates are all subject to approval by the Local Pedestrian, Cycling and Traffic Calming Committee.
"I had so much fun at the Surry Hills Summer Streets! What a cool afternoon.. can we do it every year?!"
Instagram post, February 2022.
"That was probably the best thing I've seen City of Sydney plan! We need more of this - it felt like I was in Europe for a night!"
Stanley Street business owner via Facebook, March 2022.
Opportunities for retailers
Opportunities for hospitality venues
Further event information
We'll promote the Sydney Streets program through our event listing website What's On. All business offers or activations can be listed on the free event listing platform and be part of our promotional content. Our What's On e-newsletter has over 30,000 subscribers and the event-listing platform is an essential marketing tool for your business this summer.
Note the following:
Each business will be responsible for management and costs involved with the use of the approved outdoor area, including seating, waste management and extension of liquor licensing if required.
Temporary structures will not be permitted for any outdoor activity without approval.
Only the area in front of business premises will be available for retailer/hospitality business use subject to approval by City of Sydney and Liquor and Gaming (in the case of temporary liquor licence extensions).
Covid-19 responsibilities lie with businesses when business is conducted within their indoor and approved outdoor areas, as required.
A food court style arrangement of up to 150 tables and 475 chairs will be arranged by the City of Sydney at each street closure for patrons to consume food and drink (non-alcoholic), as well as waste management services to attend to any additional waste generated.
We cannot supply tables and chairs for individual businesses. Placement of communal furniture will be within the closed street-space for communal use and benefit of all businesses.
Consumption of alcohol will not be permitted outside of the approved licensed areas of hospitality businesses.
The management of waste generated on premises or within the outdoor dining space of businesses will be the responsibility of each business.
City of Sydney site management and security will patrol each pedestrianised site on the day.
NSW Police may be present and will provide assistance if needed.
Contact us
Contact the City of Sydney's Business Concierge team on 02 9265 9333 Monday to Friday 9am to 5pm or at [email protected] for one-on-one support.
We can advise what may be possible during the road closures, support you through the approval process and help you benefit from our marketing and promotional channels.
Stay informed on Sydney Streets
Receive updates on how we are transforming village high streets into spaces for walking, shopping and dining with a series of special events.
Get help in your language