Sydney Development Control Plan 2012
For development where the City of Sydney Council and Central Sydney Planning Committee is the consent authority, Sydney DCP 2012 applies.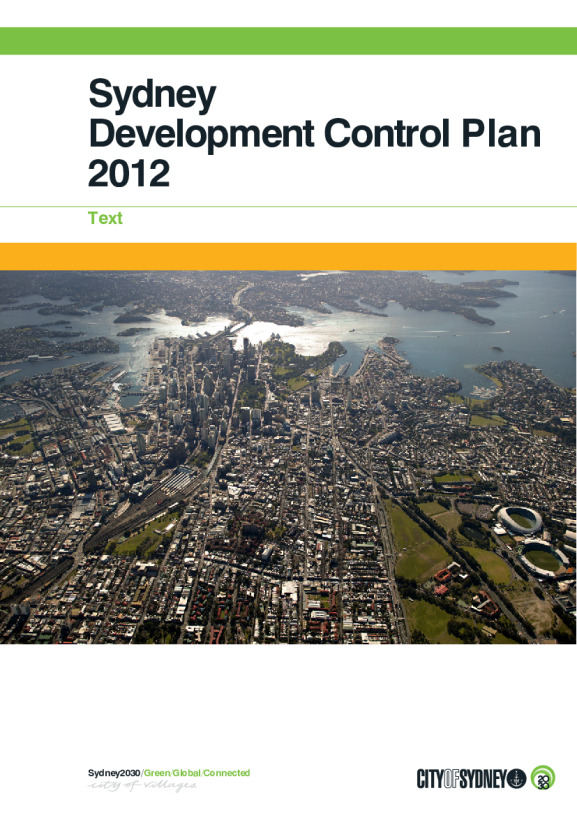 New employment zones
In our local environment plans new employment zones began on 26 April 2023.
Any mention of a former industrial or business zone in our other planning documents, including development control plans, is legally taken to be a mention of the new employment zones.
For more details on these reforms visit the Department of Planning and Environment website. To see the new employment zones, view the 'equivalent zone tables' under resources.
Map sheets
Sheet 001: Active frontages map – Not applicable
Sheet 001: Building setback and alignment map – Not applicable
Sheet 001: Building street frontage height in storeys map – Not applicable
Sheet 001: Late night trading areas map – Not applicable
Sheet 001: Proposed open space map – Not applicable
Sheet 001: Public domain setbacks map – Not applicable
Sheet 001: Signage precincts map – Not applicable
Sheet 001: Stormwater management map – Not applicable
Sheet 001: Streets and lanes map – Not applicable
Sheet 001: Through-site links map – Not applicable

Sheet 002: Building setback and alignment map – Not applicable
Sheet 002: Proposed open space map – Not applicable
Sheet 002: Public domain setbacks map – Not applicable
Sheet 002: Streets and lanes map – Not applicable
Sheet 002: Through-site links map – Not applicable

Sheet 003: Proposed open space map – Not applicable
Sheet 003: Public domain setbacks map – Not applicable
Sheet 003: Through-site links map – Not applicable

Sheet 004: Active frontages map – Not applicable
Sheet 004: Public domain setbacks map – Not applicable

Sheet 005: Active street frontages map – Not applicable
Sheet 005: Building contributions map – Not applicable
Sheet 005: Building street frontage height in storeys map – Not applicable
Sheet 005: Footpath, awnings and colonnades map – Not applicable
Sheet 005: Late night trading areas map – Not applicable
Sheet 005: Pedestrian priority map – Not applicable
Sheet 005: Signage precincts map – Not applicable

No information available.

Sheet 007: Proposed open space map – Not applicable
Sheet 007: Public domain setbacks map – Not applicable
Sheet 007: Stormwater management map – Not applicable
Sheet 007: Streets and lanes map – Not applicable
Sheet 007: Through-site links map – Not applicable

Sheet 008: Proposed open space map – Not applicable
Sheet 008: Public domain setbacks map – Not applicable
Sheet 008: Streets and lanes map – Not applicable
Sheet 008: Through-site links map – Not applicable

Sheet 009: Building setback and alignment map – Not applicable
Sheet 009: Proposed open space map – Not applicable
Sheet 009: Public domain setbacks map – Not applicable
Sheet 009: Streets and lanes map – Not applicable
Sheet 009: Through-site links map – Not applicable

Sheet 012: Building contributions map – Not applicable
Sheet 012: Late night trading areas map – Not applicable
Sheet 012: Pedestrian priority map – Not applicable
Sheet 012: Signage precincts map – Not applicable

Sheet 013: Building height in storeys map – Not applicable
Sheet 013: Building setback and alignment map – Not applicable
Sheet 013: Building street frontage height in storeys map – Not applicable
Sheet 013: Footpath, awnings and colonnades map – Not applicable
Sheet 013: Proposed open space map – Not applicable
Sheet 013: Public domain setbacks map – Not applicable
Sheet 013: Stormwater management map – Not applicable
Sheet 013: Streets and lanes map – Not applicable
Sheet 013: Through-site links map – Not applicable

Sheet 014: Building setback and alignment map – Not applicable
Sheet 014: Building street frontage height in storeys map – Not applicable
Sheet 014: Proposed open space map – Not applicable
Sheet 014: Public domain setbacks map – Not applicable
Sheet 014: Stormwater management map – Not applicable

Sheet 015: Building setback and alignment map – Not applicable
Sheet 015: Public domain setbacks map – Not applicable
Sheet 015: Stormwater management map – Not applicable

Sheet 016: Proposed open space map – Not applicable
Sheet 016: Stormwater management map – Not applicable

Sheet 018: Pedestrian priority map – Not applicable

Sheet 019: Building contributions map – Not applicable
Sheet 019: Late night trading areas map – Not applicable
Sheet 019: Pedestrian priority map – Not applicable
Sheet 019: Signage precincts map – Not applicable

No information available.

Sheet 021: Pedestrian priority map – Not applicable
Sheet 021: Proposed open space map – Not applicable
Sheet 021: Public domain setbacks map – Not applicable
Sheet 021: Signage precincts map – Not applicable
Sheet 021: Stormwater management map – Not applicable
Sheet 021: Streets and lanes map – Not applicable
Sheet 021: Through-site links map – Not applicable

Sheet 022: Proposed open space map – Not applicable
Sheet 022: Public domain setbacks map – Not applicable
Sheet 022: Stormwater management map – Not applicable
Sheet 022: Streets and lanes map – Not applicable

Sheet 023: Building setback and alignment map – Not applicable
Sheet 023: Proposed open space map – Not applicable
Sheet 023: Public domain setbacks map – Not applicable
Sheet 023: Stormwater management map – Not applicable
Sheet 023: Streets and lanes map – Not applicable
Sheet 023: Through-site links map – Not applicable

Sheet 024: Active frontages map – Not applicable
Sheet 024: Building setback and alignment map – Not applicable
Sheet 024: Building street frontage height in storeys map – Not applicable
Sheet 024: Footpath, awnings and colonnades map – Not applicable
Sheet 024: Late night trading areas map – Not applicable
Sheet 024: Pedestrian priority map – Not applicable
Sheet 024: Proposed open space map – Not applicable
Sheet 024: Public domain setbacks map – Not applicable
Sheet 024: Signage precincts map – Not applicable
Sheet 024: Stormwater management map – Not applicable
Sheet 024: Streets and lanes map – Not applicable
Sheet 024: Through-site links map – Not applicable